Awards of up to £2,000 to support your microbiology conference
22 November 2017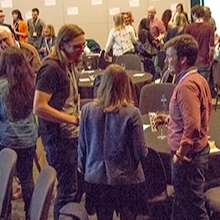 Inviting speakers to present at your conference can offer greater opportunities for knowledge exchange and collaboration. The invitation also works both ways – your speakers get to expand their reach to an audience they may not usually have access to. The Microbiology Society is keen to support these goals and can help eligible members with up to £2,000 towards invited speakers' travel and accommodation which can also help offset registration rates for your event's delegates. But don't delay – the deadline for the next round of applications is coming up soon.
In 2017, the Society funded a series of events ranging from virology workshops to conferences designed especially for early career researchers. Whether you are organising your microbiology conference in Europe, Africa or even further afield, if you are an eligible member and you have submitted before the deadline, the Scientific Conferences Committee (SCC) will consider your application. You can view all the recent events that the Society has supported on our website on the Society-Supported Conferences page.
Applicants are advised to submit their application at least six months prior to the conference date. The deadline for the first round for 2018 is Friday 15 December 2017.
Find out more details, such as eligibility and how to apply for the grant, on the Society-Supported Conferences Grant page.