Book your place for Microbes in Medicine before the early bird deadline
04 October 2019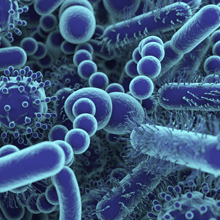 The early bird deadline for Microbes in Medicine: A Century of Microbiology at Trinity College Dublin is 11 October. Book your place before the deadline to take advantage of this discount.
The discipline of microbiology at Trinity College Dublin celebrates its centenary in 2019 and this meeting, taking place 24-25 October, will mark the occasion by focusing attention on the significant contributions that have been made by the College to microbial sciences. The meeting will be a celebration of the strength of microbiology today and the unifying scientific theme of the meeting will be Microbes in Medicine.
The history of microbiology research at Trinity College began in 1919, with the creation of the Chair of Bacteriology and Preventive Medicine in the Department of Pathology. A notable scientific contribution includes the discovery of the phenomenon of persistence by Joseph W. Bigger in the 1940s. Under the stewardship of John Arbuthnott, the department cemented its international reputation when several seminal papers were published on emerging recombinant DNA technology applied to the study of bacterial pathogens.
The Microbes in Medicine Focused Meeting offers a great mixture of sessions within the programme, from recent advances in the application of genomics to the study of antibiotic resistance and virulence in pathogens, persister cells and microbial cells surfaces, as well as topics such as 'First contact: the start of microbiota-host interactions', covering clinical work relating to beneficially modulating the preterm infant microbiome (amongst others).
Visit the event website to book your place, view the programme and read profiles of the invited speakers.
---
Image: Roger Harris/SciencePhotoLibrary.