British Government reviews its Antimicrobial Resistance Strategy
11 December 2014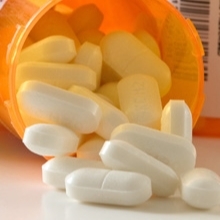 In September 2013, the British Government published the UK Five Year Antimicrobial Resistance Strategy 2013 to 2018, which detailed proposals to slow the development of antimicrobial resistance (AMR).
Today, the Government published the first of its annual report and implementation plans, detailing the progress of the strategy.
The report identifies six areas in which progress has been made in the fight against antimicrobial resistance:
Data collection and analysis
The Government has established baseline data for key infections and the use of antimicrobials, which will be used to measure future progress. A European surveillance programme has begun to assess levels of resistant veterinary pathogens.
Prescribing
The report highlights that "national antimicrobial prescribing quality measures" have been published, to encourage a reduction in antibiotic prescriptions and promote the use of narrow-spectrum antibiotics. It also highlights that a programme is beginning to "support local clinicians [to] improve their prescribing practice". Previously, Public Health England reported an increase in antibiotic prescriptions between 2010 and 2013.
Behaviour change
Changing both prescribing habits and public expectations is important in preventing the rise of AMR. The report states that the Government has "… identified new approaches to deliver change in GP and public behaviour which are now being piloted". It also mentions trying to change prescribing habits among vets.
Research
The report details a number of research initiatives, including the Antimicrobial Resistance Funders' Forum that was formed in the summer and the establishment of two Health Protection Research Units, which will focus on Healthcare Associated Infections and AMR.
International collaboration
The Government has been working with colleagues in Sweden to develop a World Health Organisation (WHO) Resolution on AMR, which will inform a WHO-led Global Action Plan, due to be developed by May 2015. The UK has worked with the European Medicines Agency to effect the voluntary withdrawal of an enrofloxacin-colistin combination product in veterinary medicine in several EU member states.
New drug development and improved diagnostics
In 2014, the Prime Minister asked economist Jim O'Neill to conduct an independent review of AMR, which will look at the economic and social burden of AMR and what needs to be done to stimulate the development of new antimicrobials.
We'll be studying the report in more detail and will bring you an analysis of it in the near future. The first paper from the economic report mentioned above was also launched today. We've summarised it on our blog.
The report can be read on the Government website.
---
Image: Thinkstock/Ingram Publishing.