British Yeast Group 2022: Early Bird registration ends soon
22 July 2022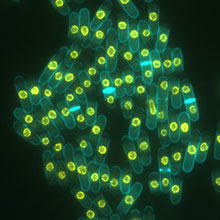 The Early Bird registration deadline for British Yeast Group 2022: From Genomes to Cells is Friday 29 July 2022 at 23:59 BST (UK Time). Register now to secure your discounted registration for the meeting, taking place 7–9 September 2022, at University College London, UK.
Returning to its successful in-person format, British Yeast Group is a friendly annual meeting that brings together the yeast community for three days of learning, discussion and networking. Confirmed invited speakers include Benoît Arcangioli (Institut Pasteur, France), Charlie Boone (University of Toronto, Canada), Snezhana Oliferenko (The Francis Crick Institute, UK) and Genevieve Thon (University of Copenhagen, Denmark).
The programme will cover a broad range of topics including chromosomes and genome regulation; cellular function and interactions; organelle and cell regulation; and DNA metabolism and cell-cycle control. Learn more about the programme and register to secure your place today.
Further information will be announced in the build up to the meeting on our social media channels. You can follow us on Twitter and Instagram @MicrobioSoc and join the conversation using the hashtag #BYG22.