Dr Lindsay Hall wins Microbiology in Society Award 2018 with Guardians of the Gut microbiome project
30 May 2018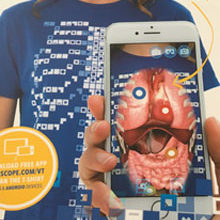 The Microbiology Society is delighted to announce that the recipient of the Microbiology in Society Award 2018 is Dr Lindsay Hall in support of her educational workshop Guardians of the Gut.
The Microbiology in Society Award is presented annually to a Society member for an education, outreach or public engagement initiative that promotes the art and science of microbiology. The award recognises projects that inspire or educate people allowing them to make informed decisions about everyday issues surrounding microbiology.
Guardians of the Gut is an engaging workshop for primary school children which aims to open the doors to the world of the gut microbiota, showing them how microbiomes develop and evolve and the impact of antibiotics on bacteria that live in the gut.
A classroom activity pack, online resources, and a brilliantly innovative virtual T-shirt enabling children to see into their gut, will re-enforce an interactive learning experience. The data generated as a result of this new education resource will inform psychologists, education specialists and science communicators.
Lindsay said of her award: "We are thrilled to be awarded a Microbiology in Society Award by the Microbiology Society for our public engagement project Guardians of the Gut classroom pack. We look forward to bringing the exciting world of microbiology and the microbiota to life for school children, and we hope we can inspire the next generation of budding microbiologists."
Lindsay and her team's collaboration with the expertise of a science communication consultant and a health psychologist will enable an interaction perfectly tailored to children's learning and understanding of science, showing a very impactful use of the Microbiology in Society Award.
Guardians of the Gut will be launched and promoted at this year's Royal Society Summer Science Exhibition in July.
To find out more about the Microbiology in Society Award visit our
grants page
.