Early bird registration closes in one week for What's New in Cryptosporidium
16 May 2022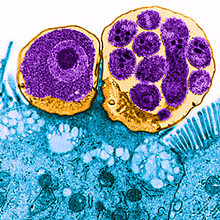 Early Bird registration rates for 'What's New in Cryptosporidium?' end on Monday 23 May 2022 BST 23:59. Register now for the opportunity to secure the lowest price possible for your attendance.
This Focused Meeting will take place on 4–5 July 2022 at Swansea University Bay Campus, Swansea, UK, bringing together microbiologists in the UK and beyond to learn about advances in the field; share best practice; and establish collaborations with others across science, industry, public and environmental health and clinical and veterinary practice.
The key topics for the meeting include:
Clinical cryptosporidiosis
Environmental health
Public health
Laboratory research
Veterinary aspects of Cryptosporidium
Further details regarding the programme is available via the event page.
Register today to secure your place at a discounted rate.
Updates on What's New in Cryptosporidium? meeting can also be found on Twitter using the hashtag #Cryptosporidium2022
---
Image: BIOPHOTO ASSOCIATES / SCIENCE PHOTO LIBRARY.