Early Career Microbiologists' Forum Online 2021: Networking and Presenting Online
03 March 2021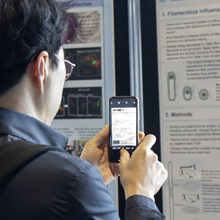 The Microbiology Society's Early Career Microbiologists' (ECM) Forum will be hosting the second ECM Forum Online, a LinkedIn based activity exclusive to early career microbiologists, which will take place 16 March 2021.
As part of a series of two events this year, this activity will provide an opportunity for all early career members to learn best practice from experts when presenting and networking online.
As we settle into the new normal of virtual conferences, this event will provide you with the opportunity to gather tips on how to design your poster and present a talk effectively to a virtual audience. This will also be a great way to practice your digital networking skills with other early career microbiologists and be part of a growing online community.
ECM Forum members are invited to join the ECM Forum LinkedIn group to take part. If you're not yet a member of the ECM Forum, learn more about how to join online.
You can also find out more about this event, including the programme and how to participate, via the ECM Forum Online 2021 event page.
Further information will be announced in the build up to the meeting. Follow updates on Twitter (@MicrobioSoc) using the hashtag #ECMOnline21.