ECM Forum Online 2021: Presenting and networking
21 January 2021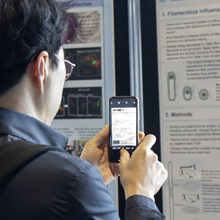 The Microbiology Society is pleased to present the second ECM Forum Online LinkedIn event which will take place 16 March 2021.
The event is dedicated to early career development and will be hosted by the ECM Forum Division and Conferences representatives and will focus on supporting members presenting during online conferences and meetings. This virtual gathering will provide an opportunity for you to gain tips and ask questions on how to present effectively without face-to-face interactions. The event will also create a space to interact with others and practice your virtual networking skills.
All ECM Forum members are invited to join the ECM LinkedIn group to be part of the online community and take part.
If you're not yet part of the ECM Forum, please visit the 'How do I sign up and join the ECM Forum?' page.
You can find out more about ECM Forum Online 2021, including the programme and how to participate on the event page.
Checkout the Twitter hashtag #ECMOnline21 to get the most recent updates.