Explore the Bacterial Cell Envelopes Collection
22 March 2022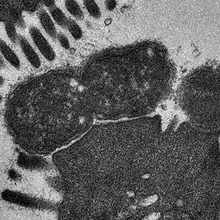 This year the Microbiology Society celebrates the 75th anniversary of Microbiology, and 75 years of publishing for the community. As part of this celebration, we will be continuing to release important themed collections, highlighting the breadth of microbiology and showcasing why microbiology matters.
This month we are pleased to share ​​​​​​the Bacterial Cell Envelopes collection, guest edited by Tracy Palmer (Newcastle University) and Yinka Somorin (National University of Ireland, Galway).
The surfaces of bacteria are critically important. They form the first line of defence against external biotic and abiotic threats and are modified in many different ways to resist phagocytosis, phage predation and antimicrobial attack. Bacterial cell envelopes are selectively permeable to allow the uptake of important nutrients and to facilitate the export of waste products. Complex protein machines span across these structures to transport molecules that build and maintain the envelope. Bacteria often encode multiple different protein secretion systems that assemble surface structures such as pili and flagella. Many of these systems secrete proteins that mediate interactions with other living organisms. The essential nature of bacterial cell envelopes is reflected by the fact that they serve as targets for many of our most effective antibiotics.
Over the years, Microbiology has published many important findings that have contributed enormously to our understanding of the structure, function and biogenesis of bacterial envelopes. Here we celebrate the journal's 75th year with a special collection of reviews guest-edited by Professor Tracy Palmer and Dr Yinka Somorin that highlights some of the most important areas of current research in this vibrant research field.
Explore the articles in the Bacterial Cell Envelopes collection. Authors wishing to contribute to the collection should contact Tracy Palmer and Yinka Somorin to discuss a potential submission. If you have any questions, please contact [email protected].
The Microbiology Society is a not-for-profit publisher, publishing for the community, and we support and invest in the microbiology community. All journals income is invested back into the Society through providing grants, facilitating policy activities, funding conferences and other activities. Support your community by publishing in a Microbiology Society journal.
Microbiology Society members receive a 30% discount on Open Access publishing in Society journals and corresponding authors at Publish and Read institutions can publish fee-free Open Access. Find out if your institution is Publish and Read on our journal platform.
---
Image: Transmission electron micrograph of a dividing Citrobacter rodentium cell attached to infected mouse colonic epithelium. Characteristic 'Attaching and Effacing lesions' or raised pedestals can be seen beneath adhered C. rodentium, formed by the accumulation of host cell actin mediated by the bacterial type III protein secretion system. Effacement of the local brush border villi around the site of attachment is also observed. Courtesy of Dr James Connolly (Newcastle University)..