FIS/HIS 2020 trainee presenters win award to present at Annual Conference 2021
10 December 2020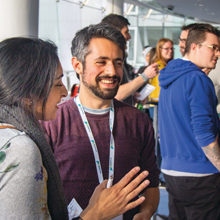 The Microbiology Society is delighted to announce that four trainees who presented at FIS/HIS International 2020 have been awarded an Infection Science Award.
The winners of the award, who will present during the Infection Forum at Annual Conference Online 2021 and be invited to submit a publication to Access Microbiology are:
Sarita Mohapatra, Antimicrobial resistance pattern of Community-acquired Urinary Tract Infection from different geographical regions of Indi
Mariya Molai, COVID-19 related encephalitis is not an unusual presentation
Anna Wild, Not such a fun-guy: A case series of severe urological infections secondary to Nakaseomyces glabrata infection at Nottingham University Hospitals between 2017 and 2019
Ioannis Baltas, Impact of antibiotic timing on mortality from Gram negative Bacteraemia in an English District General Hospital: the importance of getting it right every time
The Microbiology Society Infection Science Award is an exchange scheme which facilitates the most promising presenters from the Infectious Disease Futures session at the Federation of Infection Society (FIS) meeting to present at the Microbiology Society Annual Conference Infection Forum and vice versa. The scheme aims to support the exchange of ideas and the career development of selected early career and trainee researchers, helping to translate microbiological research to the clinic.
The Microbiology Society Annual Conference Online 2021 will take place from 26 – 30 April. The abstract deadline is 17 February 2021. To find out more and submit your abstract please visit the conference page.