Foraging for alternative antimicrobials
21 March 2019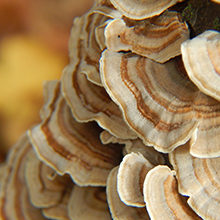 Researchers in Northern Ireland have been investigating the potential of mushrooms and toadstools to treat an infectious lung disease.
In an effort to find new treatments for Mycobacterium abscessus in cystic fibrosis (CF) patients, researchers have turned to local woodlands. M. abscessus is a bacterium that can be problematic in people with CF and has high levels of antimicrobial resistance (AMR), making it difficult to treat.
Rachel Moore, student at Queen's University Belfast, teamed up with Belfast City Hospital and the Department of Agriculture Northern Ireland to collect, identify and assess the therapeutic potential of 23 different fungi.
M. abscessus is a non-tuberculosus mycobacteria (NTM) and can cause reduced lung function and can exacerbate existing symptoms in CF patients. Once the infection has been established, it can be difficult to clear due to high levels of AMR, meaning patients may become chronically infected.
CF patients with chronic M. abscessus infection may be denied lung transplants, a procedure which can improve health and prolong life in CF patients. As AMR increases in M. abscessus, it is vitally important to find alternative sources of antimicrobials effective against the pathogen.
Fungi are frequently used as antimicrobial therapeutics in Asian countries, and fungal-derived antibiotics are not uncommon in medicine. Penicillins, the first ever antibiotics, were fungal metabolites isolated from the fungus Penicillum notatum by Sir Alexander Fleming.
As AMR continues to increase, researchers are having to go to greater lengths to source new antibiotics. The research team collected 23 native macrofungi (mushrooms and toadstools) from woodlands in Northern Ireland. They then assessed the antimicrobial activity of these fungi against isolates of M. abscessus collected from CF patients.
Of the 23 fungi tested, all but one showed some antimicrobial activity against M. abscessus. The mushrooms and toadstools which were particularly effective include Meripilus giganteus, Hygrocybe nigrescens and Hypholoma fasciculare.
According to Rachel, it is still early days to consider whether these fungi could be used as therapeutic agents, but this is a field that is being investigated around the globe. When antimicrobial activity is identified in any fungi, researchers see it as an encouraging starting point to continue with further investigation into whether the compounds are toxic to humans and how may be best to administer treatment.
Currently, CF patients receive antibiotics via a number of different mechanisms including orally and intravenously as well as through an inhalational route where antibiotics are delivered with a nebuliser. The advantage of this nebular delivery mechanism is that high concentrations of drug can be delivered directly to the airways without side effects or toxicity.
In addition to the promising effects new antibiotics could bring to CF patients, antimicrobials that target Mycobacterium could also potentially be used to treat tuberculosis (TB). Antimicrobial resistance in TB is increasing rapidly, with a new emerging threat called extremely drug resistant (XDR) TB, and new antimicrobials for this disease are desperately needed.
Rachel's research was carried out as part of a multidisciplinary team in Belfast. She said, "It was good to see colleagues from plant pathology who have lots of experience working with mushrooms and toadstools, coming together with colleagues from clinical medicine in order to collaboratively identify novel antimicrobial activity, which may help CF patients overcome such infections."
Rachel will present her work at the Microbiology Society Annual Conference in Belfast. Her poster: 'Antimicrobial properties of macrofungi to
Mycobacterium abscessus
isolated from patients with Cystic Fibrosis' will take place as part of the Fighting fire with fire: deploying microbes in the battle against disease session and will be available to view on Wednesday evening and Thursday lunchtime.
---
Image: iStock/ErikAgar.