Helping us unlock potential: Lindsay Hall's story
09 December 2021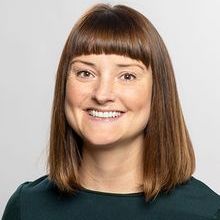 Lindsay Hall has been a member of the Society since 2003. Lindsay chose to donate to the Unlocking Potential Fund because she wants to help early and mid-career microbiologists during these difficult times when opportunities are reduced, and researchers are needing more support.
"This crowdsourcing idea is something we should be doing more of. These types of initiatives enable researchers to access funding that may not usually be available.
This fund is very timely given the huge challenges early career researchers are facing. I love the concept of 'unlocking potential' and opening this up to the community."
Lindsay Hall completed her undergraduate degree in Microbiology at the University of Glasgow before moving to the University of Cambridge for her PhD in Microbiology and Immunology at the Wellcome Trust Sanger Institute. Lindsay then moved to University College Cork to work as a post-doc and then to the Norwich Medical School at the University of East Anglia as Senior Lecturer and Principal Investigator. She now works at the Quadram Institute as Microbiome Group Leader and started a new position in 2020 at the Technical University Munich, Germany as Chair of Intestinal Microbiome.
Lindsay's research focuses on the gut microbiota and ways to harness their beneficial properties to improve child health during the early-life developmental window.
She said of the Unlocking Potential Fund: I think it's a fantastic idea. It provides flexible support, which is so important in the current climate. It means if someone does need additional support to help them get to the next stage, this is an avenue for them to do it.
I love the idea of giving back to the community. I have been really lucky in my career to get to where I am. In terms of my journey, the labs I have been through have meant that I have been able to learn so much. That isn't always on offer for everybody so that's why I think it is good to give back.
Support is different for different people at different times. It is important that whatever is required works for them, and it's great that this 'unlocking potential' funding is not tied to specific themes or research areas, rather it's whatever that person needs."
Throughout Lindsay's career, she has moved between a number of institutions and has been able to experience a range of environments, which has, in turn, led to new ways of thinking about her research. Working in different labs, and attending a range of courses and conferences, has benefitted her career in many ways and increased her network. She has been able to learn new techniques and set up new collaborations to drive forward her research. Applicants who apply to the fund could apply to gain experience in a technique in a lab that could help progress their careers.
"There wasn't anything like this available at the early points of my career and opportunities can be very limited and specific. I want to help others go to labs or attend courses, and get additional support. This pot of money could be incredibly helpful at a key point in people's careers.
When applying for research funding you often need to demonstrate you have been able to get some financial investment previously, and this could also act as a springboard to help get other types of funding. It can be hard to get that first marker ticked off. The flexibility of the funding also means the money can be used to focus on what is important to them.
I also think finding a mentor to chat to helps you explore different options and provides new ideas. It's also good to have more than one mentor – as everyone has different experiences, and they also don't always need to be in science to get that bigger perspective."
The Unlocking Potential Fund could be used to help provide mentor support if that is what is needed by the applicant.
Members will be eligible for this support and Lindsay said of being a member of the Society:
"The Society offers opportunities and collegiate support, the events such as Annual Conference and the Focused Meetings provide networking opportunities and money is put back into the community from the publishing and open access activities. It's like one big family and it's supportive. The Society is the backbone of the community and brings everyone together."
Lindsay wants to help microbiologists get opportunities to help them progress. They need your support too. By donating to the fund, you can help support the people who might, in turn, one day provide solutions to global challenges. Help them reach their full career potential.
Find out more about Lindsay Hall's work in our Member Q&A.
Find out more about microbiomes.
Our members have a unique depth and breadth of knowledge about microbiology. The Microbiology Society's role is to help unlock and harness their potential.
---
Image: Andreas Heddergott, Technical University Munich, Germany.