Hilary Lappin-Scott announced President of FEMS
06 September 2019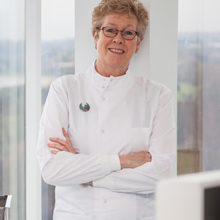 We are delighted that former President of the Microbiology Society, Hilary Lappin-Scott, is the new President of the Federation of European Microbiological Societies (FEMS), taking up the post from 7 September 2019. Hilary, the third female President of FEMS and the first from the UK and Ireland, is an eminent microbiologist who has dedicated much of her career to understanding biofilm communities and is an active science ambassador and supporter of advancing science for all.
Commenting on her appointment, Hilary said: "I am truly honoured to be elected as the President of FEMS for the coming three years. I'm aware that I am taking over this role at a time of challenges for learned societies and as Brexit looms. Never has it been more important for microbiology societies to work together on these issues but also on addressing some of the biggest global challenges to health and to our environment. FEMS is about building communities and I look forward to continued fruitful interactions with the Microbiology Society through my Presidency".
The Microbiology Society has always been an international organisation that values international partnerships. As a UK and Ireland-based organisation, we are committed to supporting scientific links are with our European neighbours, and played a key role in the establishment of FEMS. Our members have established valued and highly functional networks that have brought together researchers across the European Union. Many of our UK members have been funded via the European Research Council and Europe-wide training networks. Our members' appetite for international collaborations in continental Europe and the wider world is as strong as ever and we will continue to support the work of FEMS and Hilary as its new President.
Find out more about FEMS and its work to advance microbiology.
---
Image: Hilary Lappin-Scott/FEMS.