'Implications Of Climate Change for Terrestrial Microbiomes and Global Cycles' Collection – open for submissions
09 November 2021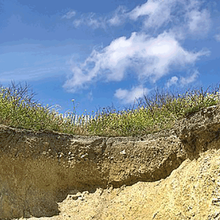 In the run up to its anniversary year in 2022, Microbiology has been launching a series of themed collections which celebrate the breadth of microbiology and showcase why microbiology matters. For the final collection of 2021, we are very pleased to launch 'Implications of climate change for terrestrial microbiomes and global cycles', guest-edited by Drs Michael Macey (Open University), Sarah Worsley (UEA), and Geertje van Keulen (Swansea University).
Soil microbiomes are highly diverse ecosystems that play a central role in ecosystem functioning and regulating global biogeochemical cycles. Through these processes, soil microbes make major contributions to the production and consumption of greenhouse gases. They also regulate the availability of essential nutrients, such as nitrogen and phosphorous, thereby influencing plant growth and global primary productivity. As such, soil microbial communities are intimately involved in climate feedback processes.
Predicting the contribution and response of soil microbiomes to future climate change represents a major research challenge. For example, uncertainties remain around the extent to which soils will act as a source or sink of carbon under future climate scenarios. A greater understanding of the microbial molecular pathways involved in biogeochemical cycling will be essential if we are to predict these outcomes. Similarly, further insight is needed into the response of soil microbial communities to climate extremes, such as drought, floods and increasing salinity, so that we can predict and mitigate changes to vital ecosystem services.
This collection aims to highlight key research investigating the role of soil microbiomes in climate feedback processes, and their response to global change. It will also include articles on the characterisation of biogeochemical cycles and terrestrial microbiomes. Find the articles already in the collection.
The Guest Editors would like to also invite contributions on advances made in affordable and sustainable research methods, e.g. focussing on in situ activities where access to energy and/or data sources may be unreliable or unavailable. Authors wishing to submit to the collection should do so via the online submission system and note in the cover letter that their submission is intended for the 'Implications of climate change for terrestrial microbiomes and global cycles' collection. If you have any questions, please contact [email protected].
The Microbiology Society is a not-for-profit publisher, publishing for the community, and all journal income is invested back into the Society through providing grants, facilitating policy activities, funding conferences and other activities.
Microbiology Society members receive a 30% discount on Open Access publishing in Society journals and corresponding authors at Publish and Read institutions can publish fee-free Open Access. Find out if your institution is Publish and Read here: microbiologyresearch.org/fee-free-open-access.
---
Image: Guido Gerding - external homepage, CC BY-SA 3.0 http://creativecommons.org/licenses/by-sa/3.0/ via Wikimedia Commons.