Infection Science Award winners at Annual Conference 2022
15 June 2022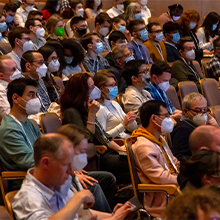 The Microbiology Society is delighted to announce that three attendees who presented at the Annual Conference 2022 have been awarded an Infection Science Award.
The winners of the award, who will present during the Infectious Disease Futures session at FIS HIS International 2022 and be invited to submit a manuscript to Access Microbiology are:
Eleanor Marshall, Imperial College London, UK
Rebecca McHugh, University of Strathclyde, UK
Matthew McKracken, University of Plymouth, UK
The Microbiology Society Infection Science Award is an exchange scheme which facilitates the most promising presenters from the Infectious Disease Futures session at the Federation of Infection Society (FIS) meeting to present at the Microbiology Society Annual Conference Infection Forum and vice versa. The scheme aims to support the exchange of ideas and the career development of selected early career and trainee researchers, helping to translate microbiological research to the clinic.
FIS HIS International 2022 will take place from 22-23 September 2022 (in-person) and on 26 September 2022 (online). To find out more and submit your abstract please visit the event page.