Annual Conference 2022: last chance to apply for the ECM Forum Co-Chairing Scheme
10 December 2021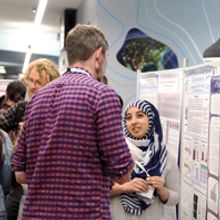 There is one month left to submit an abstract for Annual Conference 2022 (deadline Monday 10 January), which will take place on 4–7 April 2022 at the International Convention Centre (ICC) in Belfast. If you're an ECM Forum member, don't forget to also apply for the ECM Forum Co-Chairing Scheme when submitting your abstract.
The ECM Forum Co-Chairing Scheme provides ECM Forum members with the opportunity to be involved in the chairing of scientific sessions at the Annual Conference. The Co-Chairs will not receive any monetary value in co-chairing and will not take the place of a session Chair, but will receive a fantastic professional development opportunity to learn from more experienced colleagues about being a session chair.
All ECM Forum members are eligible to apply and applications should be made when submitting an abstract via Oxford Abstracts. All applications will be reviewed by the Society's Divisions and successful Co-Chairs will be introduced to the relevant session Chair in February.
Co-Chairs will receive a letter of thanks from the ECM Forum Executive Committee confirming that they participated in the Co-Chairing Scheme and will be recognised in the conference programme.
Submit your abstract

For questions about the ECM Forum Co-chairing Scheme, please contact [email protected].
For full details about Annual Conference 2022, including a list of sessions, information about other professional development opportunities and to book your place, visit the event page.
Follow us on Facebook, LinkedIn and Instagram and search the hashtag #Microbio22 on Twitter for the latest updates in the lead up to the event.