Marine Microbiology collection – open for submissions
13 May 2021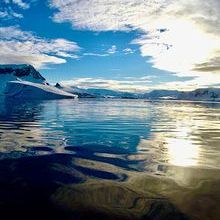 In the run up to its anniversary year in 2022, Microbiology is launching a series of themed collections which celebrate the breadth of microbiology and showcase why microbiology matters.
Previous collections in this series include Mycobacteria and Metals in Microbiology, and this month we're excited to bring you the Marine Microbiology collection, guest-edited by Dr Katherine R. Duncan (University of Strathclyde) and Dr Alexander B. Chase (UC San Diego).
Covering over 70% of the Earth's surface, the Oceans represent an incredibly diverse, yet understudied ecosystem. In particular, microorganisms (bacteria, fungi, viruses and archaea) mediate key ecosystem processes in these marine systems and account for a majority of the biodiversity. These resilient microbial species have evolved by partitioning a multitude of environmental resources including variable temperature, ocean currents, light availability, pressure and nutrients. At the same time, the dynamic nature of marine systems allows for complex biotic interactions that aggregate into microbiomes or microbial communities. Various environmental factors influence biogeographic patterns that allow for distinct community assemblages across marine habitats (e.g., water column vs. sediment). Ultimately, understanding the relationship between ecological and evolutionary processes and the environment will elucidate the factors driving marine microbial distributions and community structure. In order to understand these complex dynamics, marine microbiology necessitates interdisciplinary science, encompassing fields such as biogeochemistry, oceanography, ecology, geology, chemistry and microbiology. It also represents the incredible potential for discovery, with impacts on our ability to manage and utilize the oceans as a sustainable resource. This Marine Microbiology special collection aims to highlight key research on marine microorganisms as they underpin the complex processes of our blue planet.
Find the articles already in the collection. Authors wishing to submit to the collection should do so via the online submission system and note in the cover letter that their submission is intended for the Marine Microbiology collection. If you have any questions, please contact [email protected].
The Microbiology Society is a not-for-profit publisher and we support and invest in the microbiology community. All journals income is invested back into the Society, be it through funding grants, scientific meetings or helping to fund our policy activities.
---
Image: Katherine Duncan.