Meet the President and network online with fellow microbiologists in Norwich
23 March 2021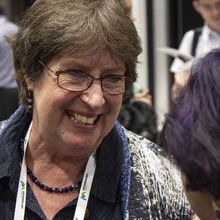 The Microbiology Society Roadshows are continuing online in 2021, supporting microbiologists in local areas connect and share knowledge.
The Microbiology Society Online Roadshow in Norwich will be held on the 25 May in Norwich for microbiologists in the local area.
The meeting will provide an opportunity for microbiologists from different institutions to listen to our President, Professor Judith Armitage, talk about her career path in microbiology, discussing rewarding experiences as well as challenging endeavours. Attendees will also be able to join a discussion with the President, ask questions and network with each other.
The online Roadshow will also offer a great platform for networking, sharing similar experiences, and making new connections with other microbiologists.