Melissa Grant wins Microbiology in Society Award
19 July 2021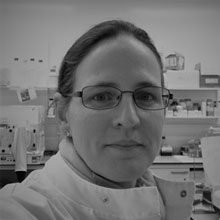 The Microbiology Society is delighted to announce the winner of the 2021 Microbiology in Society Award, Melissa Grant (University of Birmingham, UK) for her engagement project Beyond Blue Skies Biology.
The Microbiology in Society Award is given annually to a member of the Microbiology Society for an education, outreach or public engagement initiative that promotes the art and science of microbiology. The award recognises projects that inspire or educate people to enable them to make informed decisions about everyday issues surrounding microbiology.
The aim of the project is to deliver training to Birmingham Open Media (BOM) practitioners who will go on to deliver workshops to girls from twelve partnership schools across Birmingham and the West Midlands. The workshops will cover a host of topics including bioprospecting, DNA sequencing and microbes in the world. In addition to developing the students' understanding of microbiology, the project will encourage discussions around women in STEM careers, and help students realise that science is for everyone.
Melissa said of her award: "I am so super excited by this award! Being able to inspire young women to think about science in a fun and exciting way, and potentially to influence them to select science and maybe even microbiology careers is a great privilege and a lot of fun!".
The school workshops will be running from Summer 2021 to 2022, and Melissa hopes that "they will allow for experiments that children may have heard about but could probably not do until they get to university. These workshops will also provide essential catchup opportunities to fill in gaps in their practical learning due to the last year's COVID-19 restrictions."
To find out more about the Microbiology in Society Award visit our Grants Page.
---
Image: Melissa Grant.