Metals in Microbiology – a new collection in Microbiology
09 March 2021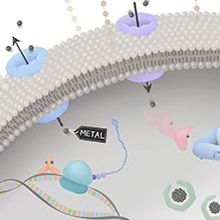 In January Microbiology announced the first in a series of themed collections that the journal is launching in the run up to its anniversary year in 2022, celebrating the breadth of microbiology and showcasing why microbiology matters.

This month we're pleased to bring you the Metals in Microbiology collection, guest-edited by Dr Jennifer Cavet (University of Manchester) and Dr Karrera Djoko (Durham University).
Metals catalyse almost half of all microbial reactions and yet can poison microorganisms. Metal handling systems – that maintain metal homeostasis – are thus vital to sustaining microbial life. For microbial pathogens, the challenge of metal homeostasis is exacerbated by host immune defences that restrict metal access and that exploit the microbicidal activity of metals. There are opportunities to produce new antimicrobials that subvert microbial metal-handling systems or that use metals directly or combined with other compounds. The prevalence of metalloenzymes also means that engineering the metal-supply in microorganisms is highly relevant to industrial biotechnological processes, with metalloproteins contributing to bioenergy production, bioremediation, biomedicine, synthesis of high-value industrial feedstocks and more.
This collection of keynote research articles will highlight research on metal—microbe interactions, bringing together advances in our understanding of how microbes handle metals, the utilization of metals in proteins and the importance of metal handling systems in host-pathogen interactions. It will also include research that exploits these systems in industrial processes, the development of metal-related antimicrobials and in metal bioremediation and biorecovery.
Check out the articles already in the collection. Authors wishing to submit to the collection should do so via the online submission system and note in the cover letter that their submission is intended for the Metals and Microbiology collection. If you have any questions, please contact [email protected].
The Microbiology Society is a not-for-profit publisher and we support and invest in the microbiology community. All journals income is invested back into the Society be it through funding grants, scientific meetings or helping to fund our policy activities.
---
Image: Jin Hong.