Microbiology 75: Celebrate our past, influence our future
10 November 2021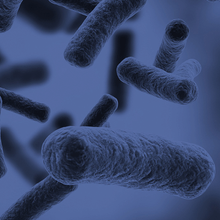 In 2022, Microbiology, our founding journal, will celebrate 75 years since publishing its first articles. We are excited to mark this milestone with a series of activities throughout the anniversary year which celebrate our past and look forward to our future.
"This is an amazing milestone for the Journal, and something which we are very proud to celebrate. We have a series of exciting events planned throughout 2022 to recognise the important role that the Journal has played in the development of our discipline throughout the years. We hope they will remind everyone of our proud history, as well as helping to showcase all of our new ventures that will keep the Journal at the forefront of scientific publishing in the coming years." - Tracy Palmer (Deputy Editor-in-Chief of Microbiology)
From the very first meeting of the Microbiology Society Council a journal was discussed, but due to rationing from the second world war, the Journal of General Microbiology was not launched until two years later. Since 1947, the landscape of microbiology research has changed dramatically and the profile of publications, authors, and research topics in Microbiology has changed with it. During 2022 you can discover more about the history of the journal and the people and articles that played a role in its journey. Today Microbiology has published over 20,000 articles from authors across the world and, as we look to the future, publishing high-quality, rigorously reviewed articles will remain at the core of the journal.
In 2022 we will continue to release important themed collections across the breadth of microbiology – from a spotlight on fungal microbiology, to a series of reviews looking at microbial cell surfaces, and a deeper look at cell-to-cell communication and microbial evolution. Keep an eye out for more information on how you can get involved and support your Society journals.
Organised by Senior Editor David Grainger in collaboration with Gavin Thomas (Editor-in-Chief) and Tracy Palmer (Deputy Editor-in-Chief), Annual Conference 2022 features a special anniversary symposium. 'Celebrating 75 years of Microbiology' revisits highlights from the journal's history in the context of the most recent advances. Invited speakers will discuss the long-term impact of classic Microbiology papers and the current "state of the art" in these research areas. Also join us for the Microbiology 75th Anniversary drinks reception in Belfast City Hall for an evening of celebrating the journal and the community that has supported it for the past 75 years.
"It is remarkable to see how much deeper our understanding of microbiology is since 1947, enabled primarily by the improved methodological tools at our disposal, but it is also striking how work on important areas like soil and gut health, which were also being studied at that time, have lagged so far behind until very recently when genomics and other new methods have allowed to really start to understand the function of complex microbial communities."
- Gavin Thomas (Editor-in-Chief of Microbiology)
The past 75 years of Microbiology has seen an evolution in both the kinds of articles we're publishing but also how we publish, and the coming years will see further big changes. The Microbiology Society is a not-for-profit publisher, publishing for the community and all journals income is invested back into the Society. We welcome you to get involved with our journals as a reader of our articles, a delegate at an anniversary event, a future Editor or Guest Editor, a reviewer of submissions, and as an author. Support your community – join us on our journey and influence the future of Microbiology.