Microbiology Educators' Network: online assessments and lessons learnt
04 March 2021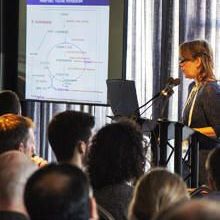 The next Microbiology Educators' Network webinar will take place on 11 March 2021 from 13:00–14:00 and all members involved in teaching are invited to attend.
This series of online lunch-time meetings are designed to offer members a platform to discuss and share teaching practices, troubleshoot common obstacles and network with others. The meetings aim to bring together like-minded individuals and provide an opportunity for you to participate in discussions with panel members who will cover current topics in pedagogy.
The next webinar will focus on online assessments and the lessons learnt. During this meeting, we will discuss how educators can ensure robust open-book assessments, prepare students for examination and reflect on the aspects of online assessments that have proven more practical and effective than traditional methods. Participants will be encouraged to share their practices, learn from the success of others and discuss the long-lasting impact the pandemic may have on assessments in the future.
Visit the Microbiology Educators' Network page to register your place for the next webinar and watch previous webinar recordings. These webinars are exclusively for Microbiology Society members. Become a member to access support at every career stage including this event and more.