Microbiology Society informs House of Commons report on putting nature and net zero at the heart of the economic recovery
24 February 2021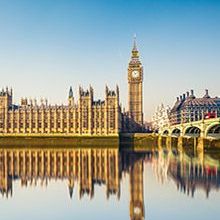 Last week, the House of Commons Environmental Audit Committee published a report calling for the Government to prioritise nature recovery and action on climate change in its post-Covid economic recovery efforts. The report quoted evidence provided by the Society highlighting the importance of transitioning to a more circular economy to make the UK more resilient to future crises.

In the summer of 2020, the House of Commons Environmental Audit Committee launched an Inquiry to investigate how to align any post-pandemic economic stimulus package with the UK's climate and environment goals.
The Microbiology Society's response to the Inquiry was informed by a series of workshops focused on how microbiology can help to achieve the United Nations Sustainable Development Goals (UN SDGs). The discussions held during the workshops, which were part of the 'A Sustainable Future' project, provided valuable insight into how microbiology is contributing to achieving a more sustainable future.
The Society's response to the Inquiry highlighted the potential for micro-organisms to become crucial allies to achieve the UK's ambitions on net-zero, biodiversity, the circular economy and the SDGs. The response included a call for the Government to further invest in microbiological research, particularly in the fields of soil health and the circular economy, to tackle future global challenges. The response also emphasised that the UK's position as an international leader in microbiology research, with a breadth of expertise across disciplines and sectors, should be promoted and strengthened ahead of the UN Climate Change Conference (COP26) in November 2021.
The Committee's report highlights the damage that zoonotic diseases can cause and the catastrophic impact that climate change and biodiversity loss could have in the future. The report draws attention to the opportunities to accelerate investment in nature recovery and climate adaptation, which will in turn spur innovation, create jobs and make society more resilient to any future crisis. The main recommendation from the Inquiry is a proposal to reduce the rate of VAT on repair services and products containing reused or recycled materials to increase the circularity and resilience of the UK economy.
The full report can be accessed on the Environmental Audit Committee's webpage.
---
Image: iStock/sborisov .