Microbiology Society Showcase and Committees Day 5-6 October 2022: events moving online
23 September 2022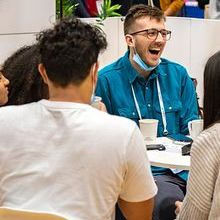 With regret, we have taken the difficult decision to move the Society's Showcase and Committees Day planned for 5 and 6 October 2022 online due to the national train strike planned for 5 October which will impact services in the preceding and following days.
We apologise to all our members and delegates and will reimburse any costs already occurred in organising attendance at the events. Both events will go ahead online with some modifications, as follows:
The Showcase will now include the finals of the Sir Howard Dalton Young Microbiologist of the Year competition and flash talks from poster prize winners. The planned professional development and Outreach Prize sessions have been postponed and will take place at Annual Conference 2023 in Birmingham from 17-20 April 2023.

The Showcase will run online from 13:00 to 16:15 on 5 October, and all members are invited to attend. Registration is free. Register now

Committees Day and the Early Career Microbiologists Forum Executive Committee will run online; Committees Day on 6 October will start at a slightly later time of 11:15. Committee members will receive their joining instructions shortly.
We apologise for the disappointment and inconvenience caused. Please contact [email protected] with any queries.