Microbiology Society publishes Unlocking the Microbiome report
15 November 2017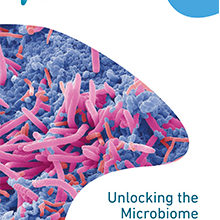 Today, the Microbiology Society launches its latest science policy report, Unlocking the Microbiome. The report makes recommendations to address the opportunities and challenges of the rapidly developing field of microbiome science for health, agriculture and food, environment and biotechnology.
A hot topic in science, microbiomes are the complex communities of microbes associated with humans, animals, plants and environments such as soils and oceans. Advances in research tools, are enabling scientists to better explore the diversity and functions of diverse microbiomes, and the potential to harness this knowledge and exploit microbiomes for the benefit of human health and nutrition, sustainable agriculture, understanding environment change, and bioenergy, for example.
While there is much excitement about new discoveries and the potential of microbiome science, much of this research is still in its infancy, with scientific and other challenges to address. The report identifies how the research community, funders, industry, regulators and decision-makers can work together to address these challenges and make the most of opportunities, including recommendations to:
build the evidence base about microbiomes
facilitate interdisciplinary research and knowledge exchange
build research capacity by addressing skills gaps and training needs
better share microbiome data and resources
develop best practices and standards for microbiome research
facilitate translation
ensure clear public communication and engagement about microbiome science
The report was informed by the Society's Microbiome Expert Working Group and a series of stakeholder workshops involving over 160 researchers and stakeholders, including representatives from research funders, industry and policy.
Julian Marchesi, Professor of Human Microbiome Research at Cardiff University, Professor of Clinical Microbiome Research, and Deputy Director at the Centre for Digestive and Gut Health, Imperial College London, chaired the Microbiome Expert Working Group. Professor Marchesi said: "This report represents an important distillation of the current thinking in the very exciting area of microbiome research. It shows that the UK has a vibrant community of multi-disciplinary scientists working in this new area of microbiology and highlights the importance of further investment and research to understand the roles of microbiomes in all facets of modern life."
The report is being launched at an event at the Royal Society, bringing together stakeholders to debate, dissect and discuss our recommendations, and showcase current initiatives and collaborations to advance microbiome science.
Dr Peter Cotgreave, Chief Executive of the Microbiology Society said: "The Microbiology Society exists to harness the potential of our members' unique deep and broad knowledge. Unlocking the Microbiome captures a huge range of expertise and distils it in a way that will help policy-makers and funders take informed decisions in an area with the potential for major applications in the coming years."
To complement the report, the Society will also soon be publishing three supplementary briefings looking in more depth at microbiome science relevant to human health; agriculture and food; and environments and industrial biotechnology.
You can download the full report and find further information about the project in the Microbiome Policy Project section of the website.