Microbiology Today May 2021: Life on a Changing Planet
11 May 2021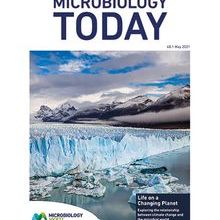 The May 2021 edition of Microbiology Today is titled 'Life on a Changing Planet' and is now available to view online. Throughout each of our featured articles, the authors explore the chronic changes that have been inflicted on Earth's climate and how the microbial world has adapted, been impacted and how microbes could potentially offer solutions.
In the first featured article of the issue, Sandra Pearson provides an overview of Lyme disease in the UK and explores the role climate change has played in the disease's increased incidence over the past few decades.
Looking at another consequence of climate change, Marta Filipa Simões' article focuses on fungi and how they are responding. She explains how adaptations seen in fungi allow them to spread to new environments to survive, but also create problems for humans in the form of emerging pathogens and damage to crops.
Similarly, microbes can present a huge problem for aquaculture, as members of Protistology-UK, Sonja Rueckert, Fiona Henriquez, David Bass and Anastasios Tsaousis write about in their article on the threat this fast-growing industry faces from protists.
Arwyn Edwards, Jarishma Gokul and Sara Rassner's article is titled 'Microbes in icy ecosystems'. Hidden below glacial ice is an incredibly diverse microbial world, much of which is still to be explored. The authors explore how some of this thriving life is contributing to glacial melting.
The warming of Earth's oceans has been disastrous for the ecosystem of the coral holobiont and has resulted in coral bleaching and death. However, Christian Voolstra writes about the microbiology of coral resilience and how we could use thermotolerant micro-organisms to protect corals from damage.
In the final featured article of the issue, André Antunes looks to the future and explores how micro-organisms, specifically those that can utilise greenhouse gases or restrict their production, could offer a solution to global warming.
The comment piece ends this issue by looking at the link between wildfires and COVID-19. Wildfires cause devastating environmental and economic damage on a global scale, but Rosa von Borries and Rachel Lowe warn us about how wildfires can also lead to an increased risk of COVID-19 complications.
Also in this issue, get to know the new Reviews Editor of Journal of General Virology, Nicholas Locker. Through his Q&A, he shares his experience of joining the Editorial Board and why Society journals are so important.
We recently announced our new fundraising initiative, the Unlocking Potential Fund, which aims to help members who may need special support to overcome challenges they face. With a quote from our President, Professor Judith Armitage, we explore how with your help the Fund could develop the leaders of the future.
This issue also contains details on our upcoming events, an Early Career Microbiologists' Forum update, a member Q&A with Stephen Polyak, a spotlight on two Harry Smith Vacation Studentships and more.
View the latest issue

Watch the companion video below to find out more about the process of using micro-organisms to remove or degrade pollutants from the environment.