Society publishes new briefing on food security from the soil microbiome
03 December 2015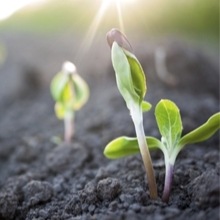 Today, the Microbiology Society published our latest briefing, entitled Food Security from the Soil Microbiome. The briefing outlines the vital role that the soil microbiome – the community of micro-organisms found in soil – plays in food production and soil health, and highlights current research to understand this niche and harness it as a tool for sustainable agricultural intensification.
Food security faces a number of pressures, not least through climate change and a growing population. Increasing the sustainability of crop production through both better soil management and biotechnologies is vital; microbiologists are playing an important role in trying to achieve this.
Advances in genomics are allowing scientists to better understand the microbiology of our soils to identify and optimise cultivation methods that promote beneficial soil microbiome diversity and function, increasing crop yields and overall soil health. Current research is also investigating the potential to use synthetic biology to harness mutually beneficial associations between soil microbes and plants to develop self-fertilising crops, which could help increase crop yields in low- and middle-income countries, while reducing the need for synthetic fertiliser inputs in intensive agricultural economies.
This year has seen a big international push to raise awareness about the importance of protecting our soils and harnessing them using sustainable farming approaches. Tomorrow, the Food and Agriculture Organization of the United Nations (FAO) will release The Status of World Soil Resources Report, which will include the first ever global assessment of soils and soil change. The report will be launched to coincide with the official close of 2015 International Year of Soils, ahead of World Soil Day on 5 December.
The importance of soil microbiology for the planet and human wellbeing was further highlighted in the Society's recent briefing entitled Microbiology and Climate Change. Both briefings can be downloaded through our Policy pages.
---
Image: andreusK/iStock/Thinkstock..