New Mycobacteria collection in Microbiology
12 January 2021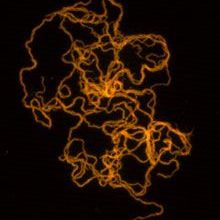 In 2022 Microbiology, the founding and flagship journal from the Microbiology Society, will be celebrating 75 years since publishing its first issue. We are very excited to announce that the Mycobacteria collection will be the first in a series of collections that Microbiology will be launching in the run up to its anniversary year, celebrating the breadth of microbiology and showcasing why microbiology matters.
Mycobacteria are a vast group of micro-organisms characterised by a unique thick, hydrophobic cell wall rich in mycolic acids, which makes them highly resistant to environmental stresses. While most are innocuous environmental saprophytes, some such as Mycobacterium leprae and Mycobacterium tuberculosis have evolved to become formidable human pathogens with a highly complex and still poorly characterised relationship with their host; others, such as Mycobacterium avium, represent important emerging or opportunistic pathogens.
Guest-edited by Dr Riccardo Manganelli, this collection of keynote research articles will highlight all aspects of mycobacterial biology. The collection will have a particular focus on physiological aspects such as stress response mechanisms, regulatory networks and metabolic pathways that might lead to a better understanding of the intriguing aspects of mycobacterial host–pathogen interactions and lead to the design of new strategies to fight these important pathogens.
Microbiology brings together communities of scientists from all microbiological disciplines and from around the world. We publish high-quality original research on bacteria, fungi, protists, archaea, algae, parasites and other microscopic life forms. Authors wishing to submit to the journal should do so via the online submission system and if you have any questions, please contact [email protected].
---
Image: Marta Peracchi.