Nominations for our 2022 prize lectures and 2023 prize medal are now open
03 December 2020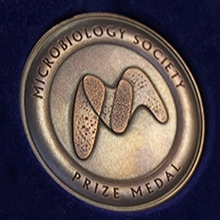 Nominations for the Microbiology Society Prize Lectures, awarded in recognition of significant contributions to microbiology, are now open. Nominations are invited from the membership each year, and the awards acknowledge the potential of microbiology research and champion the contributions made by microbiologists, and their work in addressing global challenges.

All members are welcomed to submit a nomination for consideration by the Prize Award Panel.
To nominate someone for a Prize Lecture, please visit the relevant Prize Lecture page to find out more about its remit, judging criteria and past winners of the Prize. Members may also download the nomination form on the same page. We recommend that members contact the person they would like to nominate and work alongside them to complete the nomination form. We have provided example nomination forms to demonstrate the level of detail required for nominations.
The Society is committed to creating and encouraging a diverse and inclusive culture within our membership and the microbiology community, and welcome members to consider the full breadth of the field when making nominations. In this video, past President of the Microbiology Society, Hilary Lappin-Scott, discusses why it is important to nominate a diverse range of scientists for awards.
Nominations for our 2022 Prize Lectures and 2023 Prize Medal will remain open until Thursday 27 May 2021.
If you have any queries, would like to be put in touch with a second nominator, or would like to talk through your ideas for a nomination, you can contact the Microbiology Society office for support via email at [email protected].