Professor Derek Smith (1928–2021)
11 January 2022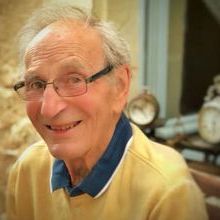 Professor Derek Smith, an Editor in Chief of the Journal of General Microbiology (JGM, now Microbiology), a former Council member, and the last Head of the Department of Genetics at the University of Birmingham, died on 5 December 2021. He is remembered with great fondness and respect by many colleagues and former students.
Derek was a Londoner and did his post-war National Service in the RAF, retiring as an Aircraftsman First Class before going on to study Zoology at Reading University, UK. From there in 1953, he went to work at Porton Down in the Microbiological Research Department to study the genetic determinants of bacterial virulence. Apparently, he attributed his success in the job interview to his confidence in knowing precisely the nature of a gene! He spent eight years as a civil servant at Porton Down, but this included an exciting year at Cold Spring Harbor on Long Island in the USA where he worked with Milislav Demerec, who was the Director of the Department of Genetics and had recruited both Barbara McClintock and Alfred Hershey. It was at Cold Spring Harbor that Derek started working on the metabolism of sulphur-containing amino acids in Salmonella typhimurium and he continued this topic until the mid-1970s. For his work at Porton Down and Cold Spring Harbor he was awarded his PhD from Reading University, UK in 1959 and was very pleased that his internal supervisor was Professor B.C.J.G. Knight, who had been one of the first two editors of JGM.
He joined the Microbiology Department at the University of Birmingham, UK under David Catcheside in 1961 but transferred to the Genetics Department of Kenneth Mather and John Jinks in 1964. Former PhD student Keith Chater, who spent his subsequent career at the John Innes Institute, recalls that his career path was set in motion by a third-year bacterial genetics course given by Derek in 1965 and remembers him as a fabulously conscientious teacher, interested equally in his subject and his students. As a PhD supervisor, Keith remembers that "he left me to get on with things with only an occasional meeting to go through recent results and the next experiments." Other PhD students who worked on sulphur metabolism in Salmonella typhimurium with Derek included Alan Kingsman (former Chairman, Oxford Biomedica PLC) and Tony Minson (former Pro-Vice-Chancellor at Cambridge and a former member of our Society's Council).
Derek was an early exponent of new teaching methods and in 1973 and 1974 he worked with the Open University as part of a team developing a level 2 genetics course, an experience he found "instructive and enjoyable but also somewhat harrowing". He was an exceptional undergraduate teacher and colleagues say that they learned a lot from him about engaging students
During the 1970s, he shifted his research direction to understanding the process of spore germination in Bacillus subtilis to complement the work on sporulation being studied by groups elsewhere in the UK and USA. John Trowsdale (Emeritus Professor of Immunology, University of Cambridge, UK) was one of the first to work on this topic for his PhD with Derek in 1970–1973. John remembers that Derek's knowledge of using phage allowed them to map the germination genes for the first time. As space was limited, John had his research bench in Derek's office! Ian Roberts (Professor of Microbiology at the University of Manchester, UK and former Treasurer of the Microbiology Society) also cut his teeth on this subject, doing his PhD in Derek's group from 1981–1984.
His students and postdocs remember that Derek always gave them credit for their work, ensuring that they attended conferences (sometimes being driven there in his Volkswagen camper van) and gave their own presentations on their work, rather than his presenting as 'group leader'. Keith Chater recalls that "Derek's name was not attached to any of my PhD publications – something which would be extraordinary now, and even then was unusual".
Derek was actively involved in the Genetics Society and the Institute of Biology (now the Royal Society of Biology) but was most associated with the Society for General Microbiology, as our Society was formerly known. He was convener of the Teaching Group in the mid-1960s. In 1969, he started a five-year term on the Editorial Board of JGM and then from 1976–1981 he was the Editor responsible for Microbial Genetics. He was elected to Council of the Society in 1982 and then was appointed as Editor in Chief of the JGM 1985–1990. Chris Sinclair, former Staff Editor at JGM, remembers Derek for his great modesty, humanity and kindness. Also, that he had a light but effective touch in running the journal as EiC and everyone respected him greatly. During the Communist era in Poland, he collaborated on cysteine biosynthesis with Danka Hulanicka from the Institute for Biochemistry and Biophysics (IBB) in Warsaw and later invited Andrzej Paszewski from IBB to join the JGM Editorial Board strengthening contacts between Polish and UK scientists. Derek was also keen to promote interactions between UK microbiologists outside of the Society structure and with Jeff Cole (also in Birmingham) and Simon Baumberg (in Leeds) he founded the Northern Bacterial Genetics group that used to hold annual one-day meetings and also included other groups from Nottingham, Manchester, Sheffield, Liverpool and Newcastle.
In the 1980s Derek, who often had industrial collaborations, became very involved with Biotechnology initiatives. He chaired the Biotechnology Management Group at Birmingham University and was responsible for making significant appointments in the Departments of Biological Sciences, Biochemistry and Chemical Engineering. He became Professor and Head of the Genetics Department after the untimely death of John Jinks in 1987. He ceased to be Head of Department when the new School of Biological Sciences was formed, incorporating the Department of Genetics. One of his biggest challenges was as Chair of the Organising Committee of the 1993 International Congress of Genetics which was held in the newly opened Birmingham International Convention Centre, a site that the Microbiology Society now uses regularly for its annual conference. Although it was an excellent Congress, it did not attract enough attendees to break even, due in part to the US scientists being unable to attend because of reductions in the US science budget. Sorting out the resulting financial issues was not easy for him. Derek also retired in 1993 and moved to Worcestershire where he continued to pursue his many interests.
Derek's former colleagues, students and postdocs were glowing in their praise. Chris Caten, a colleague in Genetics, says that Derek's life was characterised by energy and enthusiasm; he always was in a rush with a range of academic and domestic activities. He was always committed to striking a good work-life balance, not only raising a family of six children with his wife Beryl but making time for church activities, scouting, bird-watching and hill walking, as well as charitable work for homeless and marginalised people. Following Derek's death and in his memory, colleagues and friends raised a large sum in support of the homeless hostel at which he and Beryl worked as volunteers.
Several of his former group invited him to meet up with them in 2015 and noted that he had lost none of his wit or sharp intellect. Anne Moir, who is now an Emeritus Professor at the University of Sheffield, was Derek's senior post-doc and right-hand person in the late 1970s. She collaborated with him after her move to Sheffield, with Derek persuading the Research Council that she could take part in his grant with her, enabling her to get her research off the ground instantly at Sheffield. She said, "Derek was an exceptional person; I was very lucky to work for and with him". Colleagues also found him an excellent source of advice and help, be it on drafting papers (early drafts were sometimes covered with Derek's comments), on teaching undergraduates or general advice on working with the arcane structures of the university. It was a strange coincidence that in the week of the 2021 Harry Smith Memorial Lecture at the University of Birmingham we should hear of the passing of another Smith who also contributed very significantly to the development of Microbiology.
Chris Thomas and Nigel Brown, with contributions from Peter Ayling, Chris Caten, Keith Chater, Jeff Cole, Anne Moir, Andrzej Paszewski, Ian Roberts, Rachel Smith, Chris Sinclair and John Trowsdale.
---
Image: Cathy Smith.