Professor Ravindra Gupta awarded the 2023 Translational Microbiology Prize
20 April 2023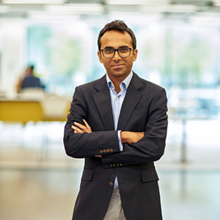 Professor Ravindra Gupta (Cambridge Institute for Therapeutic Immunology and Infectious Disease, UK) was awarded the 2023 Translational Microbiology Prize for his outstanding contribution to translational microbiology at Annual Conference 2023.
The Gupta lab has been focused on the evolution of SARS-CoV-2 within patients in response to antibody-based therapies. The team is also characterising the virology of key spike protein mutations in new variants and their impact on natural and vaccine-induced immunity.
After Professor Gupta presented his Prize Lecture on SARS-CoV-2 variants and vaccines, we spoke to him to find out what winning the Translational Microbiology Prize meant to him.
"It's a huge honour to receive this Prize, especially looking at the other individuals who have been awarded this in the past who are impressive leaders in their field…
"These are awards to one person, but actually they represent groups of people we've worked with, my team members."