Registration open for Avian Infectious Diseases 2021
20 January 2021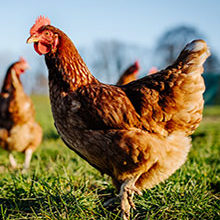 Registration for Avian Infectious Diseases 2021 Focused Meeting is now open. Members can benefit from heavily subsidised registration fees for this event. Join now to enjoy these discounts and many other opportunities designed for microbiologists at all stages of their career.
Register your place today to secure your place at this Focused Meeting.
The Focused Meeting takes place on 15 – 17 September 2021 and will bring together the scientific community and provide a forum for discussion not only on individual pathogens but also on cross-cutting areas of relevance to multiple infections, for example, the effect of immunosuppression on secondary infections, microbiota–pathogen interactions and multivalent vaccines against several infections. An outline of the programme is available online.
Offered papers will be accepted, with a focus on the discussions and new learnings in:
Molecular and cell biology
Molecular epidemiology
Pathogenesis and host response
Host genetics
Host range
Control
The event will bring together a panel of invited speakers, who will present their work and research in finding solutions to the biggest challenges in viral, bacterial and parasitic diseases of domestic and wild birds. Learn more about the invited speakers.

There is still time to submit your abstract for Avian Infectious Diseases 2021.
Abstract submissions close on 14 May 2021.
Further information will be announced in the build up to the meeting on our social media channels and you can follow us on Twitter @MicrobioSoc using the hashtag #Avian21