Report launched into sexually transmitted infections
13 December 2013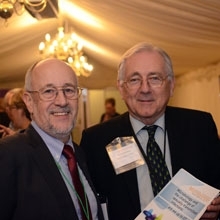 The Society launched its policy statement into the future of sexually transmitted infection (STI) research in the House of Commons on 12 December.
The statement, entitled Microbiology and the challenge of sexually transmitted infections: are we up to it?, calls for a prioritisation of research and government policy to ensure sufficient antimicrobial therapies are developed to tackle the crisis of emerging antibiotic resistance.
The report also calls for the development of point-of-care diagnostic devices that allow physicians to prescribe tailored, effective treatments. Preventing infections is the final research challenge raised in the document, and we place particular emphasis on the need for microbiologists to continue their efforts to develop an HIV vaccine. Over 100 guests, including SGM members and STI researchers, attended the event, with Sir Peter Bottomley MP making a statement on the importance of the report.
Professor Nigel Brown, President of the SGM, opened the event, saying: "Rates of STIs continue to rise in the UK and there is huge concern about the emergence of antibiotic-resistant infections, which may eventually become untreatable.
''A concerted effort is needed if we're to tackle infectious diseases. Microbiologists play a key role in this and will help make significant advances in the prevention, diagnosis and treatment of STIs."
You can download the full report online.
Dr Julian Huppert MP has tabled an Early Day Motion (EDM) to highlight the importance of the research challenges raised in the document. If you are a UK citizen, you can ask your local MP to sign the EDM. You can find and contact your local MP on the TheyWorkForYou website.
---
Image: SGM President Nigel Brown with Sir Peter Bottomley MP (right) at the policy statement launch..