Researchers create open access frozen database to advance crop microbiome research
24 October 2022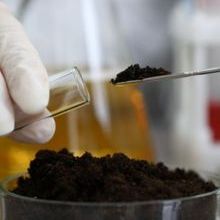 An interdisciplinary team of researchers from five research institutes across the UK are developing a "world first" resource for research into the microbiomes of crops.
The UK Crop Microbiome Cryobank will provide an open access facility for researchers to source crop microbiome data samples, including both genome sequences and samples of living microbial material. Researchers hope it will help advance research into plant–soil interactions, crop health and potentially identify natural products for new antimicrobial drugs.
The bank will contain frozen samples of microbes isolated from the roots of six major UK crops: barley, oats, oil seed rape, sugar beet, vining peas and wheat, taken from three different soil types and regions from across the UK.
Plant roots and the surrounding soil microbes are referred to as the 'rhizosphere'. Understanding how these microorganisms interact with each other and the plant itself is a key aim of the project. "The plant in the soil will attract bacteria in a high density close to the root. So we need to collect genetic information by sequencing and hopefully we can understand more about how bacteria interact with plants," explains Dr Payton Yau, a Research Associate at Scotland's Rural College (SRUC), UK.
The project will begin by collecting soil and root samples from crops, isolating any microbes present and growing them in a culture. Researchers will then store the live material at ultra-low temperatures to preserve them for future use. This process is called 'cryopreservation'.
The database will contain samples of microbes taken from healthy plants, which Dr Yau says can be used as a control to compare against diseased crops. Understanding crucial differences between healthy and diseased crops could be useful for preventing crop disease and protecting food security.
To give a profile of the different microbial communities living in the rhizospheres of each crop, the researchers will sequence their DNA. A subset of samples will undergo full genome sequencing to dig deeper into the microbes' genetic information. This sequencing data will be published for other scientists to use in their research, and Dr Yau says that anyone can ask for access to the frozen microbiome samples if they need them.
The result will be a unique database of crop microbiomes and associated genetic information, which will be openly accessible for any potential academic, policy and industry research purposes. The project has been funded by UK Research and Innovation for five years, and is run by a partnership between SRUC, Rothamsted Research, John Innes Centre, James Hutton Institute and the Centre for Agriculture and Bioscience International.
While the project has a focus on crops, Dr Yau, who has a background in medical science, believes there could be much wider implications for applied microbiology research, such as better understanding how the foods we eat impact the makeup of the human gut microbiome: "Humans eat food every day, so we need to keep that food safe. We also need to know which bacteria come from crops and how these bacteria end up in our guts."
Another potential application lies in genome "mining", or searching through the microbial genomes for genes that produce useful natural products, such as antibiotics or other proteins with antimicrobial activity. Dr Yau cites the discovery of penicillin, which is produced soil fungus Penicillium.
Ultimately, this could lead to the development of new antimicrobial drugs to fight infections in humans or crops – all the more important as increasing levels of antimicrobial resistance threaten the effectiveness of current drugs.
Dr Payton Yau will present this project at the Microbiology Society's 'Microbiome and mucosa-associated infectious disease: mining for antimicrobials and postbiotics with therapeutic potential' Focused Meeting in Dublin, Ireland. His offered talk will take place on Thursday 27 October at 15:45.
---
Image: iStock/Ivan-balvan.