Society Champion Danny Ward wins Microbiology in Society Award 2019
26 June 2019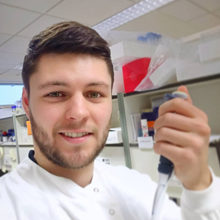 The 2019 Microbiology in Society Award has been given to Danny Ward, John Innes Centre, Norwich, to create the Microbe Zone in this Autumn's I'm a Scientist, Get Me Out of Here! competition.
The Microbiology in Society Award is given annually to a member of the Microbiology Society for an education, outreach or public engagement initiative that promotes the art and science of microbiology. The award recognises projects that inspire or educate people to enable them to make informed decisions about everyday issues surrounding microbiology.
The aim of I'm a Scientist, Get Me Out of Here! is to make science engagement fairer, so that school students from all locations or backgrounds think that a career in science is a possible option and is open to all, and to work with schools in a student-led format that makes science personally relevant. The Microbe Zone will be a place for students to ask questions specifically about microbiology, with an emphasis on microbes and disease, the ethics of biotechnology, and the implications and benefits of microbiology research on society.
Danny said of his award: "To hear that I have been awarded the Microbiology in Society Award is fantastic news! This money will help to raise awareness of what scientists actually do on a day-to-day basis, it will highlight the concept of pursuing higher education as a viable option in areas which traditionally have seen low application rates and it will help to promote the science of microbiology."
The Microbe Zone will run in November's I'm a Scientist, Get Me Out of Here! competition. It will give 400 students the chance to engage with microbiology research and its societal implications, through conversations with people involved in science – scientists, technicians, but also people from the private sector, policy and public health roles.
To find out more about the Microbiology in Society Award visit our Grants Page.
---
Image: Danny Ward.