Society for General Microbiology makes practical steps on Equality and Diversity
01 November 2013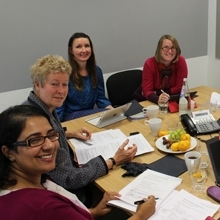 This week, the Society's Equality and Diversity Working Group met at our London office to develop future initiatives and ways of working.
This meeting follows on from our Council's endorsement of the Equality and Diversity Policy Statement.
Professor Hilary Lappin-Scott, our Equality and Diversity Champion, explained why these themes are central to the work of the Society:
"The Society is committed to utilising the full talent pool of our members in all that we do. The Equality and Diversity Policy Statement is our first step in this commitment. However, this is a working document and we are now moving forward with recommendations to Council to ensure there is a greater diversity within all of the Society's activities."
The Society recently announced its new Inclusion Grants to support members who would not otherwise have the opportunity to attend our Annual Conference.
News of future equality and diversity initiatives will be announced in 2014.