Society launches new digital content hub on Microbes and where to find them
05 June 2020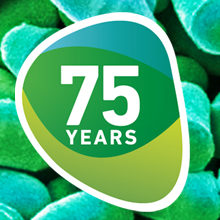 We are launching new collections of digital content for our anniversary, under the heading Why Microbiology Matters. The fourth of these digital content hubs is dedicated to Microbes and where to find them.
Microbes are everywhere and affect almost all aspects of our lives. We cannot see them, but our world would not function without them. Bacteria, viruses, fungi, protists, archaea, algae and other microscopic life forms are on us and in us, in the air, soil and water, and in our food. They are in and on the surfaces of everything in our homes, workplaces and other environments. Most do not harm us and many are essential for the good health of humans, animals and the planet.
In 2020 we celebrate the 75th anniversary of our founding with a year of activities dedicated to demonstrating the impact of microbiologists' past, present and future – bringing together and empowering communities that help shape the future of microbiology.
Why Microbiology Matters
In 2018, we launched a call to the community to nominate a discovery, event or activity that best highlights how microbiology answers big questions by giving us knowledge of very small things.
From the submissions received from throughout the microbiology community, we have created a series of digital content hubs, each examining an important theme in detail, including testimony from our members working in each area and a wealth of rich and interactive content. We will continue to add new content to the hubs as it becomes available, and each one will grow and be added to beyond our anniversary year as a lasting resource for the microbiology community.
If you are interested in getting involved, please email

[email protected]

.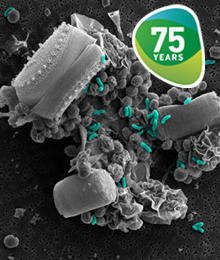 Microbes and where to find them: content brought together for the first time
The fourth in our series, Microbes and where to find them, will also examine the lives of microbes at the extremes, the role of microbes in climate change and recycling and novel products from microbes.
Content will include:
An explainer on how, thanks to their versatility, microbes can be put to work in many ways, and can be found in multiple environments, some of which are extreme.
Interviews and case studies from our members working on the innovative science involved in understanding microbe communities and their role in tackling challenges like climate change.
Resources available to explore – including the consequences of microbial life in our ocean, whether Antarctic wildlife is at risk from Escherichia coli, and the microbes that are being used as nature's pharmacists. We will also be sharing podcasts on the importance of soil health, explainer films and animation, a wealth of articles from our blog and our membership magazine Microbiology Today, as well as a dedicated collection from our journals.
We invite the community and all those interested in understanding more about where microbes are found and how we can make use of them, to access this wide variety of content, brought together in one place for the first time.
Three further content hubs, all on different and fascinating areas of microbiology, will release in 2020. Keep coming back for more.
Celebrating the impact of microbiologists past, present and future
Other anniversary events and activities during our anniversary year include our microbiology images project, which highlights how microbiology answers big questions by giving us knowledge of very small things.
You can enjoy microbiology in literature by taking part in a book club. Inspired by Jo Verran's Bad Bugs Book Club, we have released digital guidance on starting your own microbiology book club and understanding how public perception of microbiology is influenced by the representation of the discipline in books and films.
We have continued our work on our policy project 'A Sustainable Future', demonstrating the value and raising the profile of microbiology in addressing the world's biggest challenges. View our case studies, which demonstrate the impact on three key areas where microbiology has large and interesting contributions to make: Antimicrobial Resistance, The Circular Economy and Soil Health.
Throughout 2020, we will convert our complete journal archive into the modern format, improving the visibility and reusability of our archive, and preserving our content for the long term.
Join the conversation on Twitter using the hashtag #MicrobioSoc75th and #WhyMicroMatters.