Submit your abstract for the Annual Conference
02 December 2016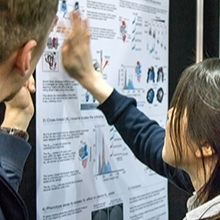 There are fewer than two weeks until the abstract submission deadline for Annual Conference 2017. To help delegates submit their best work, we have asked the Society's Divisions, who select abstracts for sessions, to give us their tips for what they're looking for in a good abstract. This has now been published in our new How to… write a great abstract guide.
To make sure that your work is successfully considered for an oral presentation, Dr Kim Hardie, Chair of the Prokaryotic Division, says, "In a good abstract, the point of the research is clear; the fact that something has actually been discovered using a robust technique and an appreciation of subsequent applicability or extension for the work is evident."
The How to... write a great abstract guide can be downloaded below, and can also be found on the Abstracts tab on the Annual Conference 2017 page.

How to... write a great abstract
(PDF)
If you would like to present your work at the Annual Conference 2017, abstract submission is open until 23:59 on Monday 12 December 2016. You can also take advantage of the early bird registration rates until Friday 3 March 2017. Submit your abstract and register now.
---
Image: Ian Atherton..