The Microbiology Society pays tribute to former President Professor Tony Trinci
08 October 2020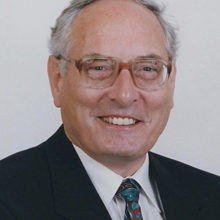 An expert in fungal cytology and physiology, Professor Tony Trinci joined the Microbiology Society in 1965 and was the first Chairman of the School of Biological Sciences at the University of Manchester.
He is remembered for his service to the Society and the wider microbiology community, serving as a member of Council between 1979 and 1981. He later became an Editor of the Journal of General Microbiology (now Microbiology) in 1990 and held the position for four years. He was elected President of the Society in 1994 and awarded Honorary Membership in 2000.
Commenting on his death, former President of the Microbiology Society Neil Gow FRS said: "Professor Tony Trinci was a true giant in mycology. His pioneering work on filamentous growth of fungi provided the conceptual foundations for the understanding of fungal multicellular growth. He was a true gentlemen and enthusiast who supported and promoted dozens of other careers and he was the first Society of General Microbiology (Microbiology Society) President to come from a mycological background. On a personal note I will always consider it an honour to have him as the external examiner for my PhD thesis and to profit from his advice from that day onwards."