All United Nations countries to sign declaration to fight antimicrobial resistance
22 September 2016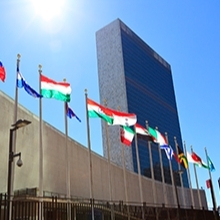 The Microbiology Society is delighted that all 193 countries of the United Nations have agreed to sign a landmark declaration to fight the growing threat of antimicrobial resistance (AMR) at the UN High Level Meeting on Antimicrobial Resistance.
Through the declaration, signatories have agreed to:
develop surveillance and regulatory systems on the use and sales of antimicrobial medicines for humans and animals
encourage innovative ways to develop new antibiotics, and improve rapid diagnostics
raise awareness among health professionals and the public on how to prevent drug resistant infections
In a ministerial side meeting, attended by the Microbiology Society, governments from around the world agreed to coordinate their collective AMR funding for maximum impact. Together, this funding totals more than £600 million, approaching halfway to the final ambition of £2bn set by Lord O'Neill in his Review on AMR.
Professor Neil Gow, President of the Microbiology Society, said:
"This is a huge step forward in tackling one of the world's most important and pressing challenges, and now the real work of implementing the specifics of the declaration begin. It is essential that all countries work together, and I am pleased to see that the UK is leading the way with commitments to further reduce inappropriate prescriptions and the incidence of high-risk bacterial infections in hospitals by 50%, and cutting the level of antibiotic use in the agricultural sector to 50mg/kg by 2020."
For the past two years, the Microbiology Society has been running Antibiotics Unearthed, our citizen science project that is involving the public, students and educators in the hunt for new antibiotics. The project aims to develop their knowledge of antibiotic resistance and enable them to experience scientific research – inspiring the younger generation to become the scientists of the future.
Mitigating the severity of antibiotic resistance will require a multidiscipline 'One Health' approach, bringing together researchers from many aspects of science. The Society recognises the importance of this and is a member of the Learned Society Partnership on AMR, working with partner organisations across different scientific disciplines to raise awareness of antimicrobial resistance, and support UK research to tackle this global challenge.
---
Image: mizoula/Thinkstock..