Valuable contributions to antimicrobial stewardship from junior healthcare staff
18 October 2019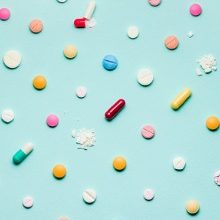 Antimicrobial stewardship ward rounds led by junior members of the healthcare team improve patient care, research has found.
Research by Dr Ryan Hamilton assessed antimicrobial stewardship rounds carried out on Leicester Royal Infirmary's Acute Medical Unit. The rounds were attended by antimicrobial pharmacists and infectious diseases registrars.
Antimicrobial stewardship ward rounds involve coordinating clinicians, microbiologists and pharmacists to ensure the most appropriate antimicrobial treatment is administered to patients. These rounds are usually led by senior members of the healthcare team. According to Dr Hamilton, this may not be necessary, and junior members of the healthcare team can make valuable contributions to the rounds. "What our work does tell us, and is the main take home message for hospitals, is that antimicrobial stewardship and microbiology rounds do not necessarily need to be led by consultants or senior antimicrobial pharmacists. This is also a unique opportunity for antimicrobial pharmacists and microbiology and infectious diseases trainees to learn from each other in the context of clinical cases."
He said, "Everyone can, and should, contribute to antimicrobial stewardship, no matter their profession, speciality or level of practice. […] Junior members of the healthcare team should be familiar with the antimicrobial and infection management guidelines within their areas, refer to these regularly and challenge deviation whenever possible. Juniors should feel empowered and able to question deviation, as well as seek further advice from specialists where necessary."
The study assessed 104 patient reviews collected during antimicrobial stewardship rounds. The junior healthcare staff recommended changing the antimicrobial treatment for 35 patients (34%) and stopping antimicrobial treatment for 18 of the patients (17%). For the patients whose treatment was changed following the antimicrobial stewardship rounds, length of hospital stay was reduced by an average of 12 hours, and readmission rate was 9.5% lower.
In addition to providing an effective treatment, using the right antimicrobial drug has a number of positive effects, including reduction of antimicrobial resistance, decreased spread of multidrug-resistant (MDR) micro-organisms to other hospital patients and reduction of cost. "Good antimicrobial prescribing and stewardship, particularly early into a patient's admission, improves patient outcomes and reduces length of stay. Unfortunately, the increasing incidence of multi and extensively drug resistant organisms can drive use of broad-spectrum antimicrobials, so it is increasingly important for ward rounds to review and rationalise prescribing and educate ward teams on how best to manage infectious presentations," Dr Hamilton said.
According to Dr Hamilton, antimicrobial stewardship rounds focus on patients who have been prescribed ultra-broad spectrum or high-risk antimicrobial drugs. He said, "We make a lot of recommendations regarding additional diagnostic tests and samples, review patients' antimicrobial and allergy histories to avoid inferior treatment, promote the use of empirical guideline antimicrobial choices and prompt early IV to enteral switching."
Dr Hamilton will present his findings at the Federation of Infection Societies Conference 2019 (FIS 2019) in Edinburgh, which takes place between the 11 and 14 November 2019.
Hosted by the Microbiology Society, FIS 2019 is a unique conference which includes the collaboration of 16 societies across the UK, with interests in different aspects of infectious diseases, clinical microbiology, biomedical science and infection control and provides a great opportunity to find out about the latest developments and to connect with key contacts and networks.
Early bird registration for FIS 2019 is open until 25 October. For more information about the event and to register to attend, visit the FIS 2019 registration page.
---
Image: iStock/Sasha Brazhnik.