12 / 10 / 2021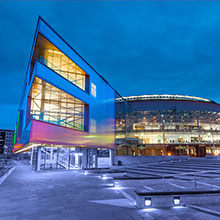 Annual Conference 2022
Monday 4 April–Thursday 7 April 2022
Annual Conference 2022 will see the Society return to its in-person annual meeting format following a two-year hiatus due to the global health crisis.
The Society is delighted to be going back to Belfast and its International Convention Centre that will host the organisation's flagship meeting next April.
Destination Belfast
Belfast is the capital of Northern Ireland and home to the Microbiology Society Annual Conference 2022. Next year's flagship event features an extensive programme designed to cover the breadth of microbiology, as well as professional development sessions, social activities and lots of face-to-face networking opportunities.
Belfast is a city rich in culture and history and is the perfect destination if you're looking to extend your stay. Whether you enjoy historic landmarks, attractions or want to experience some new culinary delights, there is a lot waiting to be discovered. To help plan your visit there are a number of guides, available in different languages, to download on the Visit Belfast website.
Popular Belfast attractions include the Titanic Museum, the Alexandra Graving Dock and Belfast City Hall, one of Belfast's most iconic buildings.
Abstracts
Annual Conference regularly attracts over 1,600 attendees for the UK's largest annual gathering of microbiologists. It is designed to cover the breadth of microbiology research and its oral abstracts and posters reflect this comprehensive scientific programme.
Abstract submission for Annual Conference 2022 is now open and the key abstract deadlines are as follows:
Abstracts close:10 January 2022
Notification of acceptance: w/c 7 February 2022
See the event's webpage for further information and specific abstract submission categories.
Registration
Bookings are now open for next year's Conference.
See the event's webpage for further booking details.
Early bird discount ends: 28 February 2022
Bookings close: 28 March 2022
Travel and accommodation
Travel to Belfast is easy and fast. The city is well connected by road, rail and sea transport, and with 2 local airports the city is accessible by air from both Great Britain and overseas destinations.
To support you in securing your accommodation we have provided links to our booking and accommodation services on the Annual Conference 2022 website, where we have secured negotiated rates at hotels to suit a wide range of budgets.
Follow @MicrobioSoc on Twitter to keep up with the latest Annual Conference 2022 updates, using the hashtag #Microbio22.

FIS 2021
5 November 2021 and 8–9 November 2021
The British Infection Association (BIA) is hosting the Federation of Infection Societies 2021 Annual Conference (FIS 2021) in Manchester (5 November) and online (8 and 9 November 2021).
FIS is the largest gathering of the UK infection community and includes societies, groups and individuals who are interested in all aspects of infection, from basic science and clinical infection to infection prevention and control.
The two online dates (8–9 November) will include sessions hosted by the Microbiology Society:
Future Proofing Antibiotic Resistance: Alternatives to Antibiotic Discovery
Understanding Emerging Biocide and Antibiotic Co-resistance

Have you got an idea for a Microbiology Society event?
Our busy programme of activities is developed from event proposals from the Society's members and we're currently calling for suggestions for our events programme in 2023 and beyond. All Society members are invited to submit proposals covering any topic relating to microbiology, which will be considered by the Scientific Conferences Panel. Visit microbiologysociety.org/events to find out more.
---
Image: ICC Belfast