12 / 10 / 2021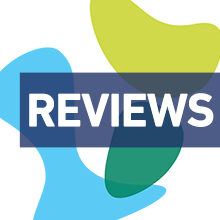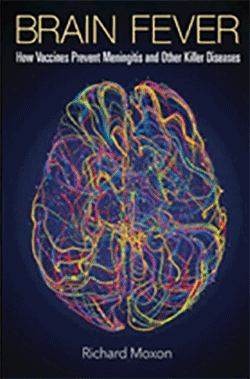 Brain Fever: How Vaccines Prevent Meningitis and Other Killer Diseases
By Richard Moxon
World Scientific Publishing (2021) £19.99
ISBN: 978-1-80061-001-9
Meningitis affects hundreds of thousands of people each year - mostly young children. This is an 'insider's' story of the heartbreaks and triumphs that resulted in the development of vaccines to prevent the major forms of meningitis. Combining clinical practice with laboratory science, decades of research were needed to unlock the secrets of the commensal bacterial pathogens that cause meningitis and bring about a historical breakthrough in public health. Brain Fever is an intimate and forthright account of the brilliant scientists who have brought about a milestone in medical practice. As we are learning from the Covid-19 pandemic, it is vaccines that we rely on to fight and overcome the devastation caused by virulent pathogens. No intervention in the history of medicine has conferred a greater public health benefit than immunisation.
Richard Moxon
University of Oxford, UK
---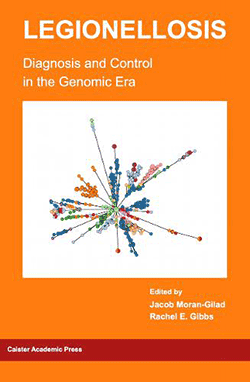 Legionellosis Diagnosis and Control in the Genomic Era
Edited by Jacob Moran-Gilad and Rachel E. Gibbs
Caister Academic Press (2020) £199
ISBN: 978-1-913652-53-1
Legionellosis is a significant cause of mortality worldwide. The complex interaction of Legionella pneumophilia, the causative agent of legionellosis, with humans and animals often makes this pathogen a model for infectious disease. This book focuses on the pathogen from the standpoints of its bacteriology, ecology, epidemiology, public health and clinical medicine. Newer research techniques including the use of genomics have revolutionized the research on Legionella which is reflected throughout the book.
The book introduces Legionella as an intracellular and adaptive parasite of amoeba and its complex ecology. It is followed by a detailed discussion on bacterial pathogenesis including the role of secretion systems, secreted proteins and genetic regulatory circuits. Another chapter reflected on the use of reference strains and discussed how the sequencing of reference strains have contributed to the understanding of legionellosis outbreaks and beyond. Clinical features of legionellosis, laboratory diagnostics and treatments are also covered in the following chapters. Interestingly, the environmental and clinical aspects of non-L pneumophilia species of the Legionella species are also covered. Prevention, risk assessment and risk management of legionellosis outbreaks along with systematic responses to outbreaks are also being deliberated. Not only genotyping methods and their importance in the identification of L. pneumophila are covered but also genome-based typing along with classical molecular typing methods of Legionella are also being reviewed in the concluding chapters.
Chapters in this book are written in lucid language with adequate illustrations to engage the readers. This volume will serve as a useful reference for scholars, researchers and academicians interested in or working with Legionella and will be a valuable addition for libraries in colleges and universities.
Arindam Mitra
Adamas University, India
---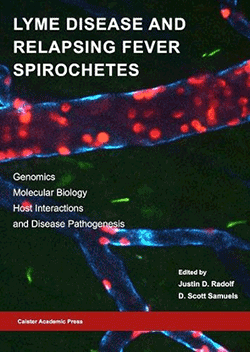 Lyme Disease and Relapsing Fever Spirochetes: Genomics, Molecular Biology, Host Interactions and Disease Pathogenesis
Edited by Justin D. Radolf and D. Scott Samuels
Caister Academic Press (2021) £199
ISBN: 978-1-913652-61-6
Lyme disease is on the rise in the Northern Hemisphere. It is steeped in controversy, and most definitely in need of rigorous scientific understanding. As such, Lyme Disease and Relapsing Fever Spirochetes provides an excellent reference for students, scientists and clinicians alike. It provides clear overviews of the evolutionary biology, physiology, pathogenicity and immune evasion of Borellia, meanwhile also contextualising current contentious debates involving chronic Lyme disease and post-treatment Lyme disease. A truly fascinating and invaluable resource for the modern microbiologist!
Rachel Patel
Royal Devon and Exeter NHS Foundation Trust, UK
---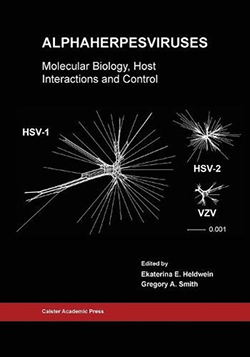 Alphaherpesviruses: Molecular Biology, Host Interactions and Control
Edited by Ekaterina E. Heldwein and Gregory A. Smith
Caister Academic Press (2020) £199
ISBN: 978-1-913652-55-5
The book is a detailed construction of invaluable information on the essential topics of alphaviruses such as genome-wide variation, viral invasion, host-immune evasion, entry to the central nervous system, latency, vaccine, and oncolytic herpes simplex viral vectors in a well-integrated 11-chapters for the readers written by experts in the field of alphaviruses. The editors of the book are successful researchers and well-known in the field of herpes viruses.
The book overcomes the challenge of a textbook by providing essential information and seamlessly building each chapter with the scholarly collection of data on the molecular mechanisms underlying the viral entry, neuroinvasion, latency/reactivation, and treatment of neuronal tumours. The book has a practical and appealing approach to conveying information on herpes viruses and will benefit a wide range of readership. The book features convenient tables, for example, summarizing the clinical trial results of the HSV (Herpes Simplex Virus) vaccine candidates and fluorescently labelled alpha Herpes virus tracing recombinants. Multiple colourful illustrations in each chapter are convenient for visual learners. The book abolishes the need to consult additional molecular references as each chapter provides comprehensive information and comparative scientific evidence in in-vitro and animal models.
The book succeeds in providing an overview of genome-wide variability, molecular mechanistic understanding of viral tactics involved in neuroinvasion, and discusses the emerging concepts that can have widespread utility in our growing knowledge of alphaviruses and will be invaluable to our current understanding of alphaviruses in both scientific and clinical settings. The book is practical and rich in the content of alphaviruses and will be resourceful to students, senior scientists, or alphaviruses enthusiasts.
Afrinash Ahamad
Stony Brook Medicine New York, USA