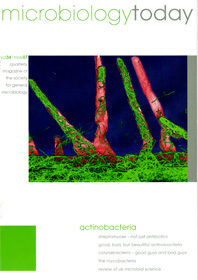 To view and print this document, you will need to download Adobe Acrobat Reader.
Actinobacteria
01 May 2007 publication
The lead articles of the May 2007 issue of Microbiology Today are on streptomyces - not just antibiotics; good, bad, but beautiful actinobacteria; corynebacteria - good guys and bad guys; the mycobacteria; review of UK microbial science.
Microshorts (p. 59)
Lucy Goodchild takes a look at some stories that have hit the headlines recently.
An introduction to the actinobacteria (p. 60)
Pathogenic, symbiotic and industrially important, David Hopwood reveal how this group of micro-organisms is diverse and fascinating.
Steptomyces: not just antibiotics (p. 64)
Rosemary Loria, Madhumita Joshi and Simon Moll offer an alternative insight into the pathogenic ability of these usually life-saving organisms.
Good, bad, but beautiful: the weird and wonderful actinobacteria (p. 68)
Morphologically complex, challenging and rewarding; Paul Hoskisson explains how we have barely scratched the surface when it comes to the Jekyll and Hyde microbes.
Corynebacteria: the good guys and the bad guys (p. 74)
Michael Bott discusses how the products of this genus range from useful animo acids used as flavour-enhancing food additives to deadly toxins that help us to understand virulence.
The mycobacteria (p. 78)
Matt Hutchings explains how these successful pathogens, causing diseases such as tuberculosis and leprosy, are still a major threat to global health.
Schoolzone (p. 84)
Jane Westwell describes Nuffield Bursaries and the Crest Awards, whilst Sue Assinder takes a trip to Dublin to visit the largest school science fair in Europe.
Gradline (p. 88)
PhD - what's next? Jane Westwell explains the next steps and offers advice on how to maximise your chances of success.
Going public (p. 93)
If you are annoyed by how the media portrays your area of science, Frances Downey explains that there is a network of people who feel the same and that there are training workshops to help you make your voice heard.
Comment: Review of UK microbial science (p. 100)
Microbiology plays a pivotal role in the scientific and economic life of the UK. Charles Dorman believes that greater interaction between funders may strengthen this position in the future.