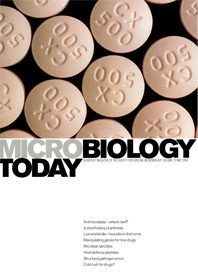 To view and print this document, you will need to download Adobe Acrobat Reader.
Antimicrobials - where next?
01 May 2004 publication
The lead articles of the May 2004 issue of Microbiology Today are on antimicrobials - where next?; a short history of antivirals; biocides in the home; manipulating genes for new drugs; microbial narcotics; host defence peptides; structural pathogenomics; and the cold rush for drugs.
Antimicrobials - where next? (p. 55)
New drugs are needed to meet the challenges posed by superbugs. David Payne explains why genomics, although it has led to many advances, cannot provide all the answers.
Antiviral drugs - a short history of their discovery and development (p. 58)
For many years it was believed that there were no effective antiviral drugs. Since the late 1950s scientists have made great progress in this area as Hugh Field and Erik De Clercq describe.
Live and let die (p. 62)
The risks of antibacterial resistance developing from the use of biocides may well have been overstated. Peter Gilbert and Andrew McBain argue that health and hygiene are being compromised as a result.
New drugs by manipulating Streptomyces genes (p. 64)
Now that the 'golden age' of antibiotics is over, scientists are developing different ways of making new drugs. David Hopwood describes some of the applications of modern genetics in the search for new antibiotics from Streptomyces.
Microbial narcotics (p. 66)
The microbial metabolism and transformation of alkaloid narcotics such as heroin, morphine and cocaine are attracting the attention of researchers. The results offer some interesting applications, as Deborah Rathbone and Neil Bruce describe.
Host defence peptides (p. 70)
Host defence peptides, also known as antimicrobial peptides, are a diverse group of small peptides that have emerged as exciting multifunctional components of the immune system, as well as promising new anti-infective agents, Deirdre Devine explains.
Structural pathogenomics (p. 74)
Ian Boucher, Jim Brannigan, Mark Fogg and Claudia Schnick discuss how structural genomics can help.
Gradline (p. 82)
Jane Westwell focuses on careers, offering advice from UK Next Wave's Careers Doctor, Sara Shinton and profiling a job in science communication.
Schoolzone (p. 84)
Dariel Burdass gives an overview of the current situation with antibiotics and other antimicrobials.
Microbiology Awareness Campaign Scotland (p. 88)
Janet Hurst reports on the most recent event at 'The Hub' on Edinburgh's Royal Mile.
Obituary (p. 97)
Dave Rowland describes the highlights in the life of Fred Brown, who passed away in February.
Comment - cold rush for drugs? (p. 112)
A wide variety of microbes lives in the icy wastes of Antarctica. Nick Russell believes that exploiting their commercial applications may not be in the interests of protecting this unique environment.
---
Cover image credit: James King-Holmes/Science Photo Library