From the President
Issue: Antimicrobials
01 November 2012 article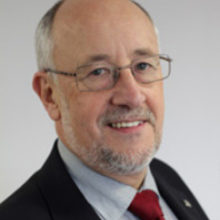 NIGEL L. BROWN
It is a great privilege to have been elected President of the Microbiology Society in September and I look forward to serving the Society and its members over the next 3 years.
It is a time of great change in the external environment for learned societies, and Council and the Marlborough House staff will be working hard to ensure that the Society continues to be successful. We will have to meet the demands of open access publication that UK funders are asking for, yet maintain the journal income to support our conferences, our educational provisions, and our many other activities. We have to continue to provide member benefits that are valued.
This would at least maintain the status quo, but there is much more that the Society needs to do. The Society started to modernise its practices under Hilary Lappin-Scott and the appointment of Simon Festing as Chief Executive has accelerated the process. This progress will continue going forward. We have appointed a new Publications Manager who will bring forward a publications strategy for Council's consideration. A new website will be launched early in 2013, which will be more up-to-date and user-friendly than the current site. Marlborough House staff will have the benefit of working with a new members' database, allowing us to be more responsive and tailored to members' needs.
These internal changes are just the start. We have restructured the Committees of Council to serve the new Strategic Plan; we are currently in the process of electing members to these Committees. The Education and Public Affairs Committee and Education Division have been reformed into the Communications Committee and Professional Development Committee to serve the external educational environment (schools, public engagement, etc.) and to help in the continued professional development of our members. In particular, we are concerned with the issues of development of early-career researchers and ensuring that we promote equality and diversity. As outgoing President, Hilary Lappin-Scott has written on gender diversity in the profession in this issue (p. 229), and Council has asked her to be the SGM Diversity Champion.
The Policy Working Group has become the Policy Committee and is engaged in responding to consultations, in developing a policy statement on Sexually Transmitted Infections, and in influencing scientific opinion-formers in Government, funding agencies and elsewhere. Our previous policy statement on Food Security and Food Safety was well received by parliamentarians and other opinion-formers. The SGM presented the policy to the Government's Food Research Partnership. In this issue (p. 226), there is an interview with Professor Ian Boyd, recently appointed Chief Scientific Adviser to Defra, following similar articles with the European CSA and the UK Government CSA.
During my Presidency, I plan for the SGM to engage much more strongly with Government and public bodies, to better represent the discipline of microbiology and to ensure that the relevant science is taken into account in decision-making. Where appropriate, this will be done in partnership with other learned societies. The issues of emerging infectious disease, antimicrobial resistance, vaccination, and a number of other scientific topics relevant to our discipline require continual engagement by members, and relatively new developments, such as synthetic biology, require us to make the scientific information more widely known.
I look forward to leading the Society through these exciting times and would like to hear from any members who are keen to support these endeavours.
NIGEL L. BROWN, President
Email [email protected]