News
Issue: Antimicrobials
01 November 2012 article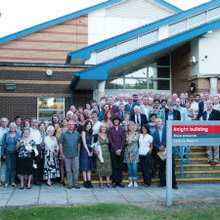 News of members
Congratulations to…
STEM Ambassador MARK FERNANDES (IFR, Norwich) who has won the CUE East Award for Individual Achievement for his outstanding contribution to public and community engagement;
ROSS FITZGERALD who has been appointed Chair in Molecular Bacteriology at the University of Edinburgh;
IAN POXTON (University of Edinburgh) on receiving a lifetime achievement award from the Anaerobe Society of the Americas for his contribution and dedication to the field of anaerobic microbiology.
The Society notes with regret the passing of DR DEREK J. BARBARA (member since 1973), PROF. HOWARD GEST (member since 1956) and PROF. ROBIN J. ROWBURY (member since 1964).
Success for SGM CARA grant recipient
Supporting professional development of microbiologists is one of the core strands of SGM strategy and, in 2011, Council decided to add a new dimension to this by offering sponsorship to the Council for Assisting Refugee Academics (CARA), an organisation which provides much-needed financial assistance to microbiologists who have come to the UK as refugees escaping persecution.
The first grant recipient was Nadje*, who has a PhD in Microbiology from the University of Salahaddin, Erbil, Iraq, and 10 years experience of teaching and supervising students. She is now paving her way to becoming a clinical scientist in the UK. Using the funds, she was able to enrol on the MSc in Molecular Biology of Infectious Diseases at the London School of Hygiene and Tropical Medicine in September 2011, for which she immediately expressed her gratitude; 'I have got the experience and skills and this is my opportunity to get my life and my career back on track'.
Najde enjoyed the course and performed well while looking after her two young children. She even found time for voluntary laboratory work at St George's Hospital during the summer of 2012 to supplement her CV. The MSc finished with a research project with the support of Nick Dorrell's group.
About CARA
CARA will celebrate its 80th anniversary in 2013 and remains an organisation run by academics working on behalf of fellow academics in need, who are all too often amongst the first to be targeted by state-sponsored violence and repression. SGM was the first learned society to engage in a formal partnership to offer financial support that is committed to a specific academic discipline.
*Nadje is an alias to protect the grant recipient's identity.
Part 2 Microbiology Prize winner continues to excel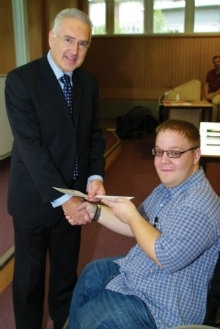 DAVID TAYLOR, who was awarded the SGM prize for the best performance in his Part 2 Microbiology Modules at the University of Reading, has continued to excel in his studies and has gone on to win the Part 3 Biomedical Project Prize in 2012 for his project on 'The role of M protein in torovirus assembly' with Dr Ben Neuman.
Photo David is pictured here with Professor G. Brooks, the Pro-Vice-Chancellor for Teaching and Learning at the University of Reading. David Butlin, University of Reading
SGM at ASE
In January 2013, we will be returning to the Association for Science Education (ASE) Conference in Reading.
Tom Ellis (Imperial College London) will be giving a talk on synthetic biology as part of Biology in the Real World, James Redfern and John Schollar will be giving practical advice, and the SGM team will be in the exhibition tent (free entry!). If you are going along, drop by to say 'hello'!

Malaria resource
Our long awaited fact file Malaria: A Global Challenge is now available to order from our website: www.microbiologyonline.org.uk/teachers/resources. Members are welcome to contact our Education & Outreach team (education@microbiologysociety.org) for multiple copies for education or outreach activities.
60 years of Microbiology at Reading
Well over 100 alumni and other former and current Reading microbiologists gathered on 7 September 2012 to celebrate the 60th anniversaries of the founding at Reading of the first university Department of Microbiology in the UK in 1951 and the introduction of the degree course in microbiology in 1952. SGM was represented by Jane Westwell. A series of talks was followed by a reception and a ceremony to re-name the microbiology building as the Knight building to honour the Foundation Professor B.C.J.G. (Gabe) Knight (1904–1981). A ceremonial plaque was unveiled by a member of his family, and those present signed the Visitors' Book which contains previous entries from six Nobel Laureates, half of the past Presidents of SGM and HM the Queen who formally opened the building in 1992.
'Gabe' Knight came to Reading with an international reputation in microbial nutrition and recognition for the first demonstration of an enzymic activity in a bacterial toxin, i.e. Clostridium welchii (now perfringens) α-toxin. He made a significant contribution to the founding of SGM, was a member of its first committee, and the first and longest serving Editor of the Journal of General Microbiology. He also gave the Marjory Stephenson Memorial Lecture in 1961. On retirement in 1969 he was made an Honorary Member of the Society.
This association with SGM was maintained by Knight's successor Colin Kaplan as joint founding Editor of the Journal of General Virology, and this continued through his successor Jeff Almond (Fleming Lecturer, 1985), Jane McKeating (Fleming Lecturer, 1995) and John Grainger (Peter Wildy Prize Lecturer, 2002).
The former Department of Microbiology, now within the School of Biological Sciences, maintains vigorous research programmes in bacteriology and virology, and continues to provide a BSc course in microbiology which includes a field course in Iceland.
For further details see www.reading.ac.uk/news-and-events/releases/PR464056.aspx
JOHN GRAINGER
Photo Guests at the 60th anniversary celebrations. University of Reading