Opportunities for undergraduate students
Issue: Antimicrobials
01 November 2012 article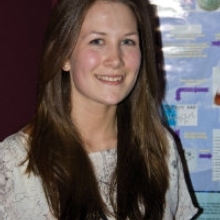 SGM SUPPORTS undergraduate (UG) students who would like to experience a scientific conference. UG student members who register for the SGM Spring 2013 Conference in Manchester before the earlybird deadline on Friday 22 February will not pay a registration fee to attend the conference. Those who have results to present can apply for a UG Student Conference Grant to contribute towards their travel and accommodation costs. Students need not be the first author, but should be present at the poster session to talk about their work. The research being presented may have been done at any point during their UG studies, including a placement year, final-year honours project or vacation project.

Three UG student members - Helina Marshall (right), Kathryn Turnbull (left) & Lisa Buddrus – received funding from SGM to present work at the SGM Autumn 2012 Conference in Warwick (3–5 September). Helina who had just completed a BSc (Hons) in Biological Sciences at Edinburgh Napier University talked to Karen McGregor about her experiences.
I've been a UG member of SGM throughout my degree and I always wanted to attend a conference. For part of my final year honours project I carried out a 3-month full-time research project at the Moredun Research Institute. When the results of the project turned out to be novel and not wholly what we expected, we thought it was worth talking about.
Attending the conference was better than I could have expected - I met some really great people and attended talks about the exciting new work going on in different fields of microbiology (and, having just finished my degree, was pleasantly surprised at how much I understood - I was a bit worried before the conference that I might end up feeling a bit stupid). Presenting the poster was a little daunting at first, but it was a really great experience. Discussing my work with other people, seeing people interested in my results and getting their suggestions of what could be done next with my research was really inspiring. I just generally enjoyed the whole conference experience! It has definitely made me more certain about continuing into a career in research and I have just started on a BBSRC interdisciplinary doctoral training programme based at University College London. - Helina Marshall
Lisa Budruss gave an oral presentation entitled Electricity generation in MFCs using distillers' dried grains with solubles and recorded a podcast with the SGM Press Officer about her work.
Helina Marshall (above right), Kathryn Turnbull (above left) & Lisa Buddrus presented their posters at the SGM Autumn 2012 Conference at the University of Warwick.
Grants - make the most of your membership
Information on all Microbiology Society Grant Schemes available in 2013, together with application forms can be found on the main website.
HARRY SMITH VACATION STUDENTSHIPS
These studentships enable UG students to work on microbiology research projects during the summer vacation before their final year of study. They provide support to the student at a rate of £185 per week for a period of up to 8 weeks plus up to £400 for laboratory consumables.
Applications should be made by SGM members who will act as the project supervisor on behalf of a named UG student.
Closing date for applications is 15 February 2013.
CAREERS CONFERENCE GRANTS
These grants offer UG Student Members a contribution towards registration fees and cost of travel to a Life Sciences Careers Conference. Aimed at UGs and recent graduates, the conferences include presentations covering a wide range of science-related subjects, a CV workshop providing tips on how to secure an interview for your perfect job, and a chance to mingle with the experts exhibiting at the conference and ask informal questions over lunch and afternoon refreshments.
The 2012 conferences are taking place at University of Birmingham on Wednesday 14 November 2012, Queen's University Belfast on Wednesday 28 November 2012 and University of Leeds on Wednesday 5 December 2012.