Early Career Microbiologists' Forum Update: the importance of networks
Issue: Arboviruses and their Vectors
06 August 2019 article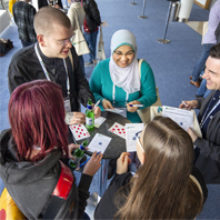 The 2019 Annual Conference in Belfast was hugely successful for Early Career Microbiologists' (ECM) Forum members. It's clear that the presence of the Forum is increasing year on year, and it's heartening to see that the new President of the Society, Judith Armitage, is keen to continue the positive steps that her predecessor, Neil Gow, took to cement the role of early career members at the heart of the Society.
From a pool of 81 posters, the ECM Forum Executive Committee awarded their Annual Conference Poster Prize to Emily Warman, University of Birmingham, for her work on the properties and directionality of intragenic promoters in E. coli. David Sünderhauf from the University of Exeter was highly commended for his submission. One of my favourite ECM Forum activities, the Conference co-chairing scheme, is increasing in popularity year on year, with 28 ECM Forum members taking advantage of this opportunity in Belfast.
A highlight for me is always the pre-Conference networking event. Initially organised by Society staff, the Executive Committee took on this event when they first formed, and it has received increasingly positive feedback. Following this year's event, I reflected on just how important it is to construct and maintain a network of your peers that you can rely on for support and guidance (and maybe the occasional glass of 'sorry your experiment failed again' wine). For some, these networks come ready-made. I am fortunate to work in a large group with several PhD students at the same stage as I am, and from talking to people during the event it was evident that others are also lucky enough to be in the same boat.
This is not the case for everyone though. If your cohort is small, you have recently relocated or you just don't share the interests of those around you, then it can make the early stages of your career feel isolating and considerably more difficult than they should be. Imposter syndrome, for example, is thought to affect a large proportion of PhD students. This can lead to, or be exacerbated by, mental health conditions such as depression, anxiety and obsessive-compulsive disorder. These feelings can be made worse if the act of strengthening your network or finding a support group feels challenging.
To offer a solution to this, we have set up a LinkedIn group exclusively for ECM Forum members. This group is free to join once you are a member of the Forum (which is also free for Microbiology Society members!). We hope that this will become a platform for early career microbiologists to meet one another, share their experiences in applications and interviews and ask for experimental tips and troubleshooting … whatever you like! To join, simply send a request to the group after you have signed up to the Forum and a member of Society staff will approve it within a few days (Monday–Friday). We hope to meet you all there soon.
As always, if you have any questions or suggestions for the Forum then please do get in touch!
Rebecca Hall
Communications Representative, ECM Forum Executive Committee
Are you an ECM Forum member? Join the Microbiology Society Early Career Microbiologists' Forum LinkedIn group: microb.io/ECMForumLinkedIn.
---
Image: I. Atherton.