Geertje van Keulen: Chair of the Prokaryotic Division
Issue: Arboviruses and their Vectors
06 August 2019 article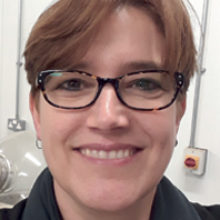 The Society's four Divisions (Eukaryotic, Prokaryotic, Virology and Irish) consist of members who support the organisation and plan sessions and symposia for the Society's events programme. Each Division Chair and Chair-Elect sits on the Scientific Conferences Committee, and the Chair reports into Council, the Society's governing body. In this article we find out about the work of Geertje van Keulen, Chair of the Prokaryotic Division.
I am Associate Professor in Biochemistry at Swansea University. My lab group is focused on my favourite actino prokaryote, Streptomyces, which is used as inspiration for researching manufactured, natural/environmental and living materials, and for biochemical engineering, thereby adopting a true interdisciplinary approach.
When did you first decide you wanted to do science (and why)?
I was first inspired to do science by my chemistry teacher in secondary school, while my dad taught me about electrical engineering. I enjoyed chemistry and the molecular aspects of biology from the first day I learnt about these disciplines. When studying chemistry at university, I developed wide-ranging interests in biochemistry, organic, polymer and structural chemistry, as well as chemical engineering. I eventually chose to specialise in biochemistry, which is where my passion for molecular biology, particularly transcription regulation, started as a researcher. My interest in and passion for science and technology, not necessarily high grades in school or university, led me to become a researcher, with a career now as an interdisciplinary microbiologist.
When did you join the Society and why did you join?
My first stint as a member was as a PhD student while working in The Netherlands, to benefit from reduced registration fees for the Spring/Autumn Conferences, now Annual Conference. When I moved to the UK as Marie Curie Intra-European Fellowship (IEF) fellow, I re-joined to connect with the large microbiology network in the UK and for the many member benefits. Now, I encourage our students to join the Society to equally benefit.
Please describe your role on the Division.
Following election as a Prokaryotic Division member and then Chair-Elect, I am now Chair of Division, with a variety of roles. My main role is leading a large group of senior and early career prokaryote microbiologists to come up with topic ideas to attract top conference speakers for the communities we serve and ensuring the scheduling of sessions works for all delegates. I have also developed a mentoring document for Early Career Microbiologists' (ECM) Forum Co- Chairs, which explains their roles and expectations.
What motivated you to be part of the Division?
I joined the Division as a member with a remit for environmental microbiology, which I thought at the time was not represented as well as it could be. Over time I also helped set up the Forums, which created more presentation opportunities for ECMs, and organised the first of the Focused Meetings series which was on the topic of Soil Microbiology.
If you're a member and would like to join one of the Divisions, visit the Divisions page to find out more. You can gain insight into the work of the Society and first-hand experience of Council and Committee activities by taking part of the Council and Committees shadowing scheme.
---
Image: Geertje van Keulen.